DIB foundation donates Dh135m in charity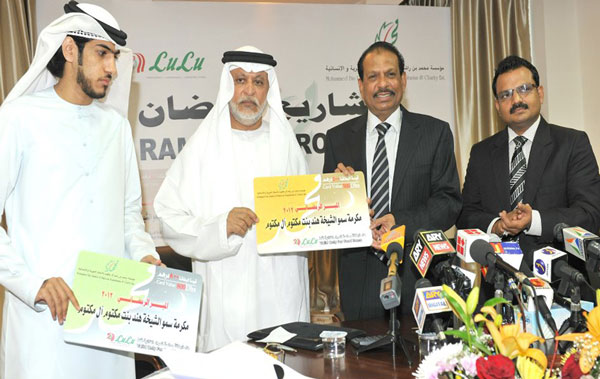 The Dubai Islamic Humanitarian Foundation, a non-profit subsidiary of Dubai Islamic Bank, will donate Dh135 million to various charitable organisations in six emirates of the UAE during the holy month of Ramadan.

Abdul Razak Abdullah, CEO of the foundation, told Emirates 24|7 that despite the several problems faced by the bank, the foundation has earmarked Dh135 million to be distributed among charitable institutions in Dubai, Sharjah, Ajman, Umm Al Quwain, Fujairah and Ras Al Khaimah, especially during Ramadan when many poor Emirati families get a helping hand.

"Last year we gave about Dh137 million as zakat for charity and in 2012 we are distributing Dh135 million. It is mandatory, as per the memorandum of association of Dubai Islamic Bank, to donate 2.5 per cent of its revenue for charity," he said.

He added that 80 per cent of the money for many UAE charitable organisations comes from DIB. Without naming the organisations that would have faced closure without financial support from the Dubai Islamic Humanitarian Foundation, he said: "We are giving Dh30 million to Beit Al Kheir Society, Dubai and Dh8 million each to charities in Sharjah, Ras Al Khaimah and Umm Al Quawain for Ramadan.

He was speaking at an event organised by Mohammed bin Rashid Al Maktoum Humanitarian and Charity Foundation and the Lulu group to launch smart cards for Ramadan charity. The bank is donating Dh 8 million to the Mohammed bin Rashid Al Maktoum Charity and Humanitarian Foundation for Ramadan charity.

Under a directive of His Highness Sheikh Mohammed bin Rashid Al Maktoum, Vice-President and Prime Minister of UAE and Ruler of Dubai, Mohammed bin Rashid Al Maktoum Charity and Humanitarian Foundation is active in charity work within and outside the UAE during the holy month. The foundation has disbursed Dh25.6 million under 24 projects to help many people welcome the holy month.

"In order to avoid last minute rush and embarrassment, the foundation has chalked out a plan for early distribution of charity funds. Sheikha Hind bint Juma Al Maktoum offered support for many charitable projects undertaken by the foundation during the holy month," said Ibrahim Boumelha, vice-chairman of the board of trustees of the foundation.

For the fifth consecutive year, the Meer Programme will distribute Dh2 million this year through magnetic smart cards to more than 3,250 families. Boumelha said 250 cards have been allocated to families in each emirate.

M A Yousuf Ali, managing director of the Lulu group, said: "This is the fifth year in which we are associating with Mohammed bin Rashid Al Maktoum Charity and Humanitarian Foundation for distributing smart shopping cards to needy people during the holy month."

The foundation has distributed zakat early in Dubai and Northern Emirates to enable beneficiaries to make the best use of the cards to prepare for Ramadan. The Lulu group was selected for the smart card project because of its wide network of stores. Beneficiaries can buy any product from Lulu stores using the smart cards.

Dh19 million towards zakat has been collected and will be distributed among 1,000 families. The foundation has signed a cooperation and partnership agreement with Dubai Islamic Bank to distribute zakat. Zakat amount from the bank for the foundation reached Dh8 million.

The Aid Department of the Foundation collected details about needy families to distribute zakat before the beginning of Ramadan. The department's staff conducted a background check on each case before starting distribution of zakat and the process is still in progress.

353 orphans in Dubai and Northern Emirates are to be given Dh600,000, Boumelha said, adding that caring for or adopting orphans is one of the most virtuous deeds in Islam.

The foundation also plans to distribute 135 tonnes of sugar worth Dh480,000 supplied by Khaleej Sugar Factory during the current Ramadan.

Outside the UAE, the foundation reaches out to a number of countries, especially through an 'iftar saaem' project in cooperation with charitable organisations abroad. The foundation's Maphater Ramadan programme distributes things worth Dh2.7 million in 18 countries. The Maphater aid reached 1.6 million people around the world – 95,000 people in eight Asian countries, 504,000 people in Africa and 87,000 people in USA, Canada and Haiti.
Follow Emirates 24|7 on Google News.