DIFC plans footbridge to Dubai Metro station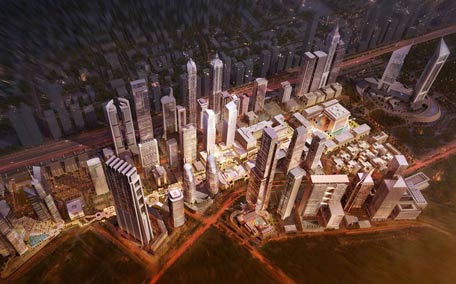 Dubai International Financial Centre (DIFC) said on Tuesday it will not increase rents and is planning to build a footbridge, linking the centre to the Financial Centre Metro station.
"We have a rent cap in place," Essa Kazim said on being asked if there were any plans to increase rents in the free zone.
Occupancy of DIFC-owned commercial offices in the Gate District (Gate Building, Gate Precinct and Gate Village) stood at 99 per cent of leasable space (total commercial office space: 1.3 million square feet) as of December 31, 2013,.
The occupancy within third party owned office space managed by DIFC under the property lease management agreement (513,000 square feet) was 97 per cent. Last year, the net commercial office space leased was nearly 245,000 square feet.
DIFC, currently, has nearly 877,553 square feet of gross floor area of space to meet the growing demand which can accommodate an additional workforce of 15,600.
"The Centre already has a road plan in place for future and will be implemented in conjunction with Road and Transport Authority. There are plans to have a bridge, similar to the one connecting the Metro station to Dubai Mall," Brett Schafer, Chief Executive Officer, DIFC Properties, said on Tuesday.
Schafer told Emirates 24|7 in October 2013 that DIFC wasn't competing with other office buildings in the emirate, but was competing with other financial centre's such as London, Tokyo and Singapore.
It was in December 2010 when DIFC Authority revealed a new pricing "matrix" for office rentals and since January 2011, the rents have ranged between Dh160 and Dh280 per square foot, depending on the size of the office and its location within DIFC.
This website reported earlier that DIFC was seeking investment worth Dh15 billion through joint ventures to develop its remaining 10 million square feet land bank.
"We have 110 acres in our master plan, of which 25 million square feet has development potential. We have already built 15 million square feet and now we are building the remaining 10 million square feet, which will need investment of nearly Dh15 billion," Schafer had said.
Follow Emirates 24|7 on Google News.