Doctors slam Mohanlal's 'cholesterol-free' oil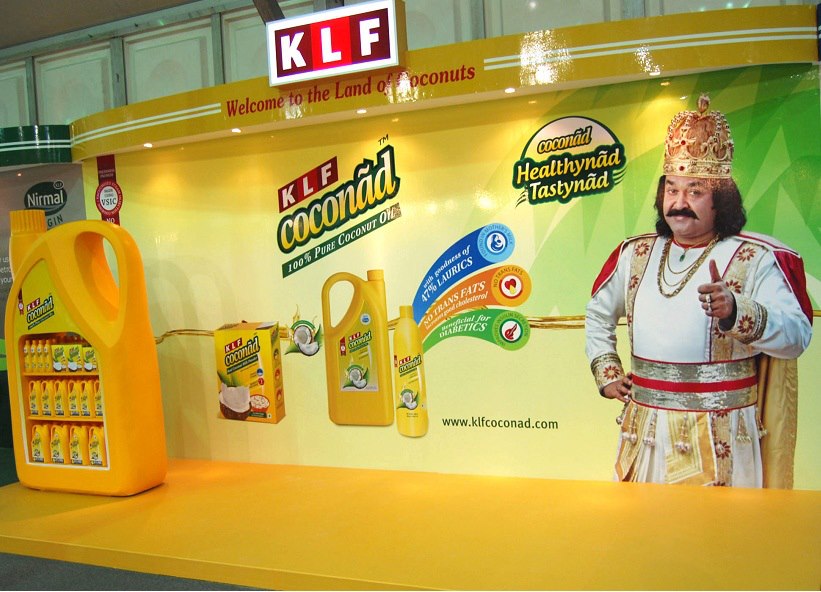 A section of Indian doctors in the UAE have said they do not endorse a much publicised endorsement of a coconut oil brand by the Malayalam superstar Mohanlal.
Indian doctors at the All Kerala Medical Graduates Association (AKMG), a group of doctors practising in the UAE, said they are perplexed by the endorsement of a coconut brand by a superstar like Mohanlal, claiming that coconut oil is totally free from cholesterol.
What Mohanlal publicises through the advertisement is not scientifically proven and people may risk their health by blindly trusting a superstar endorsement, according to them. Earlier endorsement of a leading liquor brand by the superstar raked up controversy, similar to a celebrity brand endorsement by KJ Yesudas for a property firm that cheated hundreds of NRI investors.
"Coconut oil, like all saturated fats, should be limited to 7-10 per cent of calorie-intake because it can increase risk for heart disease, according to the AHA and 2010 Dietary Guidelines," an Indian doctor said, quoting the American Heart Association.
A number of radio stations, television channels and newspapers are currently running an advertisement campaign for the new brand of coconut oil, claiming that the oil processed using a new technology will not cause heart disease or fat accumulated as spread by some foreign agents.
Mohanlal, one of the most popular Malayalam actors, acts as a Kerala King, sending out a Royal Decree, endorsing the specific brand of coconut oil.
According to marketing experts, celebrities are roped in to sell anything from gold ornaments to chit funds and financial products. The particular brand of coconut oil is claimed to be 100 per cent pure made with finest copra (dry coconut) pieces. Trans fats, saturated fats in coconut oils can be harmful and cause heart attack, doctors said.
In the advertisement Mohanlal, dressed as a traditional king of Kerala, says he is aware of a conspiracy hatched by foreign countries and is issuing a decree endorsing the pure coconut oil, free from cholesterol. Doctors say it is a highly misleading advertisement of Coconadu oil, because such claims are not scientifically proved.
"There are two basic categories of fats. Healthy fats are unsaturated and include vegetable oils, fish oils, and plant fats in nuts, avocados, and seeds. These fats should be the primary fats in your diet because they are either neutral or raise HDL cholesterol [considered good cholesterol] but don't raise LDL cholesterol [considered bad cholesterol].
"The less healthy saturated fats found in animal fats and tropical oils, including coconut oil, are allowed, but in lesser amounts because they raise LDL cholesterol," says Dr Hanish Babu.
"Trans fats in processed foods are the worst fats, capable of lowering HDL and increasing LDL, and should be kept as low as possible. Eating a nutritious diet that includes mostly whole foods and is balanced in calories is more important that worrying about specific nutrients and foods."
"Coconut oil is an essential fat, saturated fat that can cause problem for heart by causing LDL cholesterol. Both coconut oil and palm oil can cause more cholesterol and can cause heart attack, which is scientifically proven. It is not misleading information spread by foreign countries, as Mohanlal claims in the advertisement. It is a scientifically proven fact that saturated fat can cause cholesterol," said Dr Babu, who was speaking in his personal capacity.
He is also the Vice President of AKMG Emirates, but some officials in the Association have a different opinion.
Dr Babu said Keralites are more prone to heart diseases than people from many other Indian states due to many factors – increased use of red meat, egg and other fatty food items. About 7,000 tons of red meat is consumed every day in Kerala and now people are not doing enough physical exercise. High levels of stress, increased use of smoking and alcohol and negative attitude are factors causing heart ailments. It is definitely a misleading advertisement," Dr Babu told Emirates 24|7. There are different opinions on this issue and it is not the view of the organisation, he added.
According to studies, pure virgin coconut oil, containing no hydrogenation (the process of adding hydrogen to make a liquid fat hard), contains 92 per cent saturated fat – the highest amount of saturated fat of any fat.
"Most saturated fats are solid at room temperature, found in animal products (such as meat, dairy, poultry with skin, and beef fat) and contain cholesterol. Unlike animal fats, tropical oils – palm, palm kernel, and coconut oils – are saturated fats that are called oils but depending on room temperature can be solid, semi-solid, or liquid, and do not contain cholesterol.
Like all fats, coconut oil is a blend of fatty acids. Coconut oil contains an unusual blend of short and medium chain fatty acids, primarily lauric (44 per cent) and myristic (16.8 per cent) acids. It is this unusual composition that may offer some health benefits," an Indian doctor said quoting relevant studies.
Follow Emirates 24|7 on Google News.