Drive to help Dubai resident battling cancer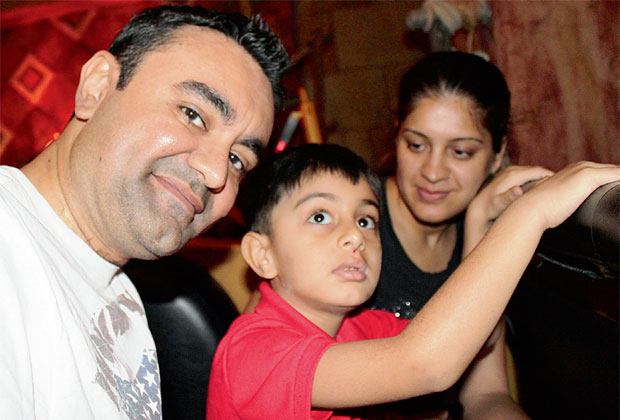 His voice cracks as Dubai resident Vic Bageria reminisces of his childhood days of misspent youth with best friend, Nimesh Joshi.
Describing him as someone who lived life king size, Bageria confesses that most of the friends and family are still battling with their own emotions even as Joshi fights the good fight against a rare form of cancer that is eating away at his body.
Currently in the midst of his second round of intensive chemotherapy in Los Angeles, the Dubai-born Joshi is suffering from Hepatosplenic T-Cell Lymphoma cancer and is in desperate need of a donor for a life-saving stem cell transplant.
There is a one in a million chance of finding a match, and his friends are now rallying the local community to step up and save his life.
"Nimesh started round two of his chemotherapy earlier this week, and we have 30 days within which we must find him a donor," Bageria told Emirates 24|7, en route to a corporate drive to help his best friend."
He continued: "The chemotherapy is so painful, we are not sure Nimesh will able to handle it. We must find him a donor before that."
While 38-year-old Joshi is surrounded by his wife, seven-year-old son and close family members at the City of Hope Hospital, Bageria has been spearheading a global drive to find a stem cell match across Singapore, Mumbai, Los Angeles and now Dubai.
"I've given up my work, my life for this," said Bageria passionately. "How could I not? He's a brother to me."
Stem cell transplant
Joshi's cancer is in an aggressive form, with both his parents and sibling failing to be a match for his treatment.
"Nimesh needs a stem cell transplant, or what we are referring to as a bone marrow match," explained Bageria. "We have contacted all his family members in Gujarat and are awaiting results, but the tests take 30 days and we can't afford to wait if none of them prove to be a 100 per cent DNA match.
"We have to widen our scope, and have reached out to the community to step up."
According to the US National Heart, Lung and Blood Institute, a blood and marrow stem cell transplant is a procedure that replaces a person's faulty stem cells with healthy ones.
Stem cells are found in bone marrow, a spongy tissue inside the bones.
Doctors use stem cell transplants to treat people who suffer from certain types on cancer, such as leukaemia.
While doctors aim for a 100 per cent match, Bageria explained that in some cases right or nine out of 10 is also a workable situation.
Meanwhile, the initial test is a painless one, with volunteers requested to take a cotton bud and conduct a cheek swab "20 times" before placing it in an envelope and signing a consent form that they are willing to step up as donors.
"Awareness is key; we want to educate and reiterate that it is essential that if they make a commitment, they stick to it; it's a matter of someone's life," he stressed.
Community drive
Bageria and members of the Joshi family are conducting corporate and community drives over the next few days in the emirate, with February 22 and 23 seeing several test centres welcoming potential donors to step up.
"This Friday and Saturday, we are requesting donors to visit all the centres, with the possibility of extending over the next week," he said.
On Friday, donors are requested to step up between 10am and 2pm at Al Ahmadiya Office in Satwa; followed by the Oasis Centre Management Office from 2pm to 10pm.
On Saturday, those interested can head to Sindhi Ceremonial Hall Bur Dubai from 10am to 2pm; and 4pm to 8pm at the India Club.
Bageria added: "The results will take 30 days to come back; and if we find a match, we will take care of all the logistics and flights and fly them down to Los Angeles.
"However, if they are unable to travel, we will look at alternatives to harvest the stem cells here."
Bageria added that the long-term goal is to create a database of donors for the South Asian community in Dubai, "so those in future don't have the same desperation that we are currently facing."
Once Joshi is helped, Bageria hopes to continue conducting such donor drives on an annual basis in Dubai.
For further information, you can log on to Facebook.com to see the event page for Nimesh Joshi or contact Bageria on 050 6592589.
Follow Emirates 24|7 on Google News.