DSF 2013: Indian school teacher wins 2 luxury cars and Dh100,000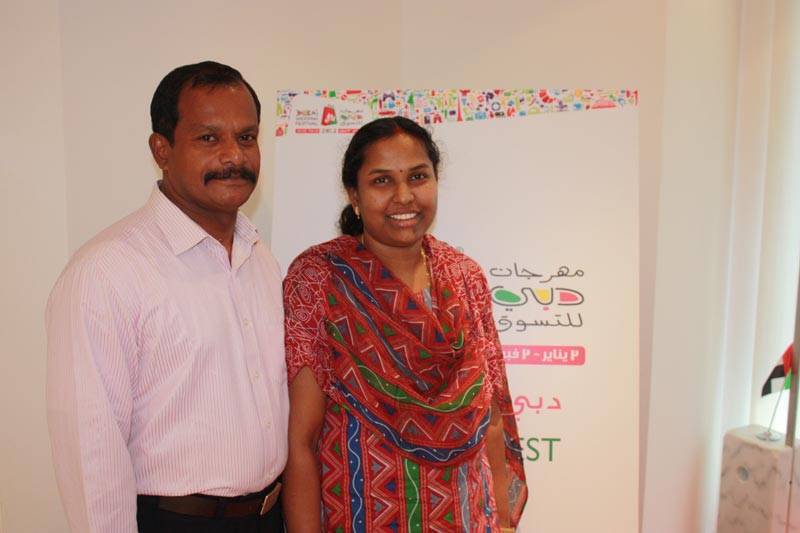 It's literally raining luxury cars, gold and cash prizes at the Dubai Shopping Festival this year.

Just days after a 10-year-old Indian student walked away with two luxury cars and Dh100,000 in cash, a school teacher has won the same Infiniti Raffle draw.

A teacher of social studies at New Indian Model School in Sharjah, Preeja Arun was declared the winner of the two Infiniti models, the JX35 and G25, along with a cash prize of Dh100,000 on January 7.

But there's a catch. She will now have to share the prize with 10 members of staff of Our Own English High School in Sharjah, where her husband works, as they all chipped in to buy the winning raffle ticket.

"We are all so happy. We have been pooling our money and buying raffles for so many years during DSF. But we never won. I am not sure what the others plan to do but my husband and I are thinking of investing our share of the money in a property back home," said Preeja, who hails from Kerala.

She revealed that the group had pooled in their money to purchase 10 raffle tickets this DSF.

Preeja is hopeful that the remaining raffle tickets could also bring them luck.

To participate in the daily Infiniti Mega Raffle draw, one must purchase a raffle ticket for Dh200 at selected Eppco and Enoc petrol stations, kiosks at main streets, shopping malls and the Global Village.

Pakistani businessman Johar Zaman has won the Infiniti Mega Raffle.

"I have been buying DSF raffle tickets every year and even though I did not win till now I knew that something good will come my way one day. I could not sleep properly after hearing the news. My wife and three sons are very happy," he revealed.

In the Nissan Grand Raffle held on January 8 at Global Village, UAE national Dora Bu Aziz Alshaanabi was declared a winner and can choose from one of 12 Nissan models - Micra Hatchback, Sunny Sedan, Maxima, Qashqai, Murano, Patrol, Juke, Altima, 370Z, Xterra, Pathfinder, or Armada – as his prize.

For every purchase of Dh20 (on non-fuel purchases at Enoc and Eppco petrol stations) or for every Dh200 spent at participating retail outlets, customers are entitled to a raffle coupon.

Among other winners, Indian resident Sumayya won quarter kilo of gold at the daily Gold Mega Raffle draw organised by the Dubai Gold and Jewellery Group.

Customers who are entitled to a gold raffle coupon can also participate in a unique SMS promotion to win specially minted "EXPO 2020 Dubai Candidate City" gold coins every hour between 10am and 11pm every day.
ALSO READ:

DSF 2013: Indian student hits the jackpot winning Dh100,000... and two luxury cars



DSF 2013 guide: Where to shop to win big
Follow Emirates 24|7 on Google News.