DSF Grand Raffle drives lucky Indian from financial trouble to life-changing moment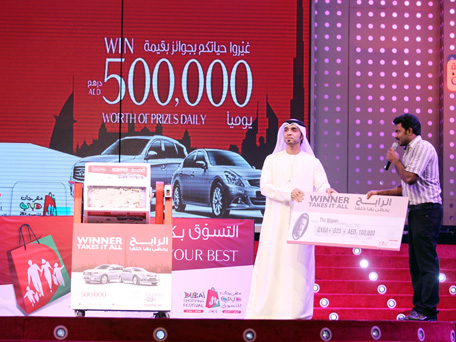 With its promise to change the lives of several shoppers each year, one of the DSF Mega Raffles has once again proved to be life-changing – this time for a 46-year old Indian living in Dubai.
The mega prize of the Nissan Grand Raffle came to Unmesh Kumar when he needed it the most – amidst a period of financial difficulties.
Kumar, who holds a clerical position at a furniture factory in Dubai, obtained the raffle coupon on purchasing etisalat cards at a ticket booth in Bur Dubai, just a week before his life took a fortuitous turn.
"Monday night I got a call from someone in Abu Dhabi who was watching the draw on the TV. He called to inform me that I had won the Nissan Grand Raffle.
"About five minutes later, I got a call from the Global Village with the same news. I didn't know what to do. I was in shock, tensed and excited – all at the same time," said Unmesh Kumar, who has been living in the country for the past 15 years, but has never won a raffle before.
The grand prize comes to him as a blessing at a time when he is facing financial troubles from more than one front. He hopes to sell the car and use a part of the cash to buy a land in his home state Kerala for building his own house.
The Nissan Grand Raffle is offering the prize of one Nissan top model throughout the DSF, which runs from January 2 to February 2, 2014.
The raffle coupons can be obtained from ENOC and EPPCO stations on spending a minimum Dh20 on non-fuel purchases.
Follow Emirates 24|7 on Google News.