DSF Infiniti raffle tickets sold out for a week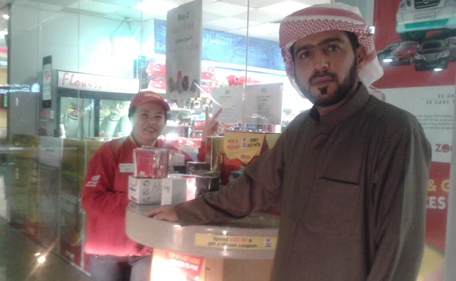 Sales of Nissan Infiniti raffle coupons through Enoc/Eppco fuel stations in Dubai during the ongoing Dubai Shopping Festival 2015 is gaining momentum. With many people buying coupons in advance, all raffle coupons have been sold out until next Friday.

About t 1,000 coupons have been sold through Enoc/ Eppco stations in Al Qusais. More than 300 coupons on week days and about 1,000 tickets on weekends are being sold at Global Village. Coupon buyers are thronging Enoc stations, which are believed to be lucky sites. Bur Dubai, Deira and other locations, too, are selling the coupons.

Abdul Malik from India, who has lived in UAE for 10 years, is the first lucky winner of this year's Infiniti Mega Raffle held on the first day of DSF 2015.


"I knew that many people win amazing prizes each year during DSF. I thought let me try my luck, too, so I went ahead and bought a ticket," said Malik, 45-year-old employee of a Dubai-based watch company.

"Sale of Infiniti raffle coupons opened on December 1, 2014 and tickets up to January 8 were sold out even before the first draw was held. Enoc/Eppco stations are now selling coupons for January 9, 2015 as all tickets for the previous days have been sold out," said an Enoc source handling daily raffle coupon sales.

Urfan Mohammed Taher, 27, from Iran, a first-time coupon buyer, won the Infiniti Mega Raffle on the second day of DSF. An employee in Dubai's Gold Souk, Urfan was in Iran with his friends when his lucky coupon was selected.

The Infiniti Mega Raffle gives coupon buyers the chance to win a prize worth Dh500,000 daily consisting of two Infiniti models QX60 and Q50 and Dh100,000 in cash. People can take part in the Infiniti Mega Raffle by purchasing a raffle ticket for Dh200 from selected Enoc and Eppco petrol stations, Global Village, Gold Souk and from kiosks on main roads.

The DSF 2015 Infiniti Mega Raffle is being run in cooperation with Arabian Automobiles (AW Rostamani Group).

Coupon buyers participating in the Infiniti Mega Raffle get a second chance to win with over Dh2 million in additional prizes at weekly raffle draws at which five lucky people can win cash prizes of Dh100,000 each.

"We are selling a lot of raffle coupons this year because many of our customers won prizes last year. Customers skip many other fuel stations and buy tickets from our petrol pump because they think it is a lucky place. Most of our buyers are Asians from India, Pakistan and Bangladesh. Of the three winners this year, two are from India and one from Iran," said a source at the Eppco station on the Dubai-Sharjah border.

Of the total 5,000 Infiniti raffle tickets sold every day, nearly 1,000 are sold through Eppco/Enoc stations in Al Qusais area close to Sharjah, especially sites No.84 and 98 where many middle class and lower middle class Asians live.

Raffle coupons sales is not very high in fuel stations located in posh residential or business areas. "The main customers are Asians, especially Keralites. Some people jointly invest Dh200 in a ticket with an agreement to share the prize if they win," sources said.

"We could sell only 25 Infiniti coupons today. Our customers are not keen buyers of Infiniti raffle coupons, but some customers do buy with their credit cards," said sales agent at an Enoc station in Satwa/Jumeirah.

"Affluent customers are not keen to buy Infiniti raffle coupons by spending Dh200. It is mostly the lower middle class and middle class Asian expatriates who buy Infinity raffle coupons," he added.

Sales at convenience stores in petrol stations shoot up during the month-long Dubai Shopping Festival because customers who buy goods worth Dh20 get one raffle coupon for a daily draw for Nissan cars. Buyers of perfumes and mobile phone cards also get raffle coupons to test their luck in the daily raffle.

"I am regularly buying Infiniti raffle coupons and pay using my credit card. I think it is a good investment because the chance of winning is better. I wish my name and photograph will appear in the newspapers tomorrow," said James, an Indian customer.

Salesmen at fuel stations are also happy because of the incentive -- Dh4 for selling one Infiniti ticket. "We are not allowed to take part in the Nissan raffle. But we are pooling money to buy Infiniti tickets," said a Filipino sales girl at an Enoc fuel station.

Follow Emirates 24|7 on Google News.