DSF showcases shopping bag featuring 250kg of gold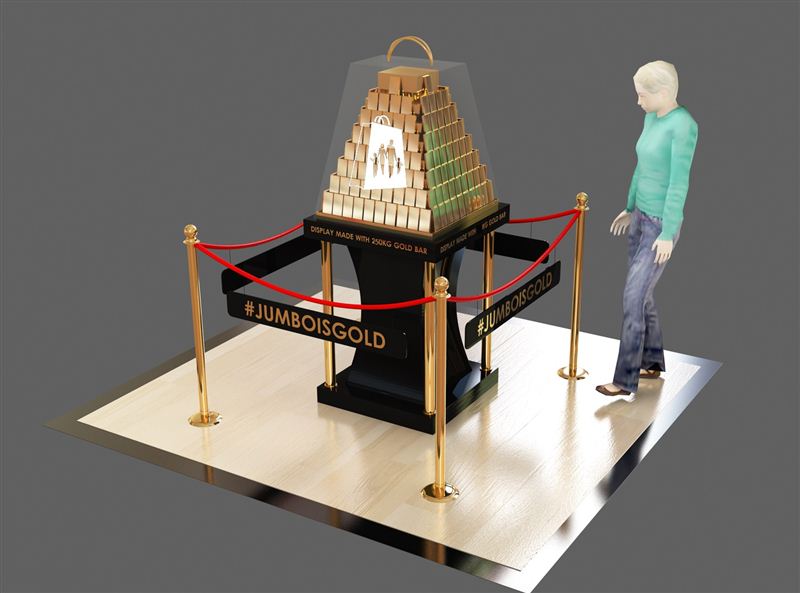 This Dubai Shopping Festival (DSF), Jumbo the leading OmniChannel electronics retailer in the UAE teamed up with festival organisers, Dubai Festivals and Retail Establishment (DFRE), an agency of the Department of Tourism and Commerce Marketing (Dubai Tourism), Emirates Gold Refinery, and Brinks Global on an ambitious project to showcase something that has never been seen before by regular mall visitors.
The vision was to engage a regular customer with a 'WOW' moment and spread the fun of shopping during Dubai Shopping Festival to the world via online.
UAE nationals, residents, tourists and everyone else are invited to see, take pictures and selfies with the 'World's largest display of 250 kilos of Gold bars at Jumbo Store, Mall of Emirates' on 20th January 2017, Friday.
To make it even more engaging Jumbo has announced that your 'Selfie or Picture with Gold' with '#jumboisgold' could get one lucky winner a 'Limited Edition Solid Gold PlayStation 4' worth Dh25,000 absolutely free. Customers need to take a selfie with the gold display and #Jumboisgold and upload it on Instagram or Facebook.
This engagement idea compliments the month long 'Shop and Win' DSF promotion Jumbo has across all its stores. Jumbo is giving away 'Half a kilo gold every week, 10gms gold coins everyday'.
Saeed Mohammad Measam Al Falasi, Executive Director, Retail and Strategic Alliances, (DFRE), said: "Dubai Shopping Festival 2017 is known for offering unparalleled shopping experiences every year that features the best retail offers combined with big winnings and world class entertainment. For the festival's 22nd edition, we are pleased to provide visitors more opportunities to enjoy memorable moments including this amazing display of gold bars organized in collaboration with Jumbo Group, a longstanding Key Sponsor of the festival. The wholehearted support of leading retailers like Jumbo Group is an essential element for the continuous success and popularity of DSF. The display is not just for shoppers to enjoy but all those visitors with an eye for fashion, style and photography are also encouraged to be a part of the excitement."
Nadeem Khanzadah, Head of OmniChannel Retail, Jumbo Group, said: "We are proud and privileged key sponsors of the (DSF) for the past 22 years. Giving away gold every DSF has always been a tradition for us but this year, we wanted to bring an even bigger attraction. We shared this idea with the DSF team and Emirates Gold Refinery, both partners shared the same passion and enthusiasm to do something different. We later got Brinks Global to manage the logistics and we ensured that this gold was safely escorted to the Jumbo Store in Mall of the Emirates."
Nadeem added: "I assure you that this display of solid gold is going to be 'WOW', so visit Jumbo store, Mall of the Emirates on the 20th of this month and be ready to take pictures."
Rami Shakarchi, Managing Director, Emirates Gold Refinery said: "Emirates Gold is a precious metal refinery and mint producing gold bars and coins in the UAE since 1991. We have been an active partner with the Government supporting them on various initiatives like the 'Your Weight in Gold Coins' and the iconic 'Vision of Dubai Coins' in the past. On hearing this idea we were excited and worked on our plans to showcase 250 Kilos of gold worth Dh35 Million and create a unique and magical experience to make this DSF and Dubai memorable around the world."
The latest edition of DSF, which commenced on 26 December, runs until 28 January under the theme 'Shop. Win Celebrate'.
Follow Emirates 24|7 on Google News.