Dubai, Abu Dhabi wake up to rainy morning: Motorists warned of slippery roads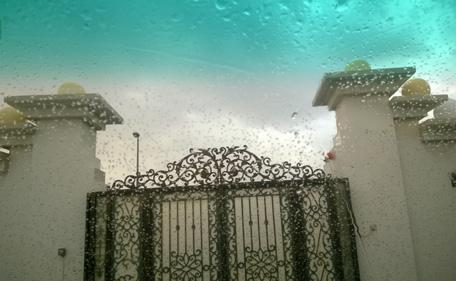 The National Centre for Meteorology and Seismology were right on the money with their weather forecast as Dubai and Abu Dhabi both awoke to rainy mornings.
With the cold snap still very much in play, by 7am, rain was being reported across both the emirates with motorists put on alert for slippery roads.
Overnight, rain was also reported across the Emirates.
The gloomy, wet weather will last today and tomorrow, bringing continued showers to most of the UAE, with the marine warning remaining stet after waves of up to 12 feet were reported yesterday.

The NCMS confirmed that Dubai, Sharjah, Abu Dhabi and Umm Al Quwain all experienced light to medium rainfall yesterday, with temperatures dipping as low as 8 degrees Celsius in the internal city areas, while the mountains reported three degrees colder.

Speaking about Tuesday's weather, a spokesperson from NCMS stated: "The weather today will be cloudy in general and the cloud amount will continue to increase over scattered areas, especially over the northern and coastal areas associated with rain.

"People will experience moderate to fresh winds with the cloud activity but it will also cause dust and sand blowing over areas, which may reducing the horizontal visibility at times; the seas will remain rough in general."

Drivers have been asked to take caution on the roads while driving "because of poor visibility due to dust and sand in open areas, along with taking care with slippery roads."

The wet weather pattern will continue into Wednesday, "especially over northern and eastern areas before the clouds will start to decrease gradually, especially in the west."

With the rough seas, the NCMS has issued a marine advisory that warns people to not venture into the deep sea in the Arabian Gulf and the Sea of Oman.

The wet weather and dipping mercury is not uncommon for this time of year with the NCMS stating that in January 2008, temperatures had dropped to -1 degree in Raknah, with the same year seeing 133.4mm of rainfall.
Wet, cozy, chilly: Click to see the best Emirates 24|7 readers' pictures here
Follow Emirates 24|7 on Google News.