Dubai airport soars to new heights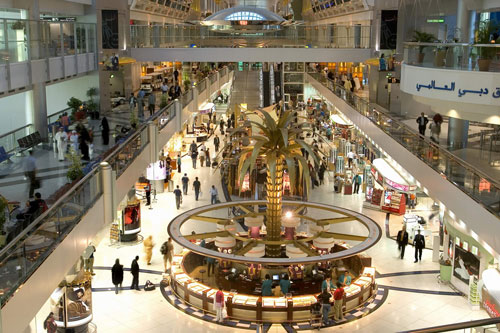 Dubai International registered another record year with the airport's 2010 passenger traffic reaching an historic 47.2 million, up 15.3 per cent over 40.9 million in 2009 and 2.4 per cent more than the 46.1 million originally projected for the year.
According to the annual traffic report issued on Wednesday by Dubai Airports, December passenger numbers reached 4.2 million, an increase of 11.6 per cent compared to 3.8 million recorded during the same month in 2009. In terms of monthly traffic, the airport crossed the four million mark for the third consecutive month in December, and for the fourth time in 2010.
Dubai International also witnessed strong cargo traffic growth in 2010 following a surge in air freight volumes during the first three quarters of the year as the global economy recovered and companies worldwide cleared inventories. Air freight traffic growth slowed to single-digit monthly increases during the latter part of the year including December when the facility handled 188,103 tonnes of freight in compared to 182,874 tonnes in the corresponding month in 2009, an increase of 2.9 per cent. Annual cargo traffic rose to 2.27 million tonnes, a robust 17.7 per cent rise over the 1.93 million tonnes recorded in 2009.
Even with the trend of moderate cargo traffic growth expected to continue globally in 2011, freight volumes are fast-approaching Dubai's 2.5-million tonnes of capacity and should elevate the importance of Dubai World Central – Al Maktoum International in accommodating additional cargo traffic.
Sheikh Ahmed Bin Saeed Al Maktoum, President of Dubai Civil Aviation Authority and Chairman of Dubai Airports, attributed Dubai International's continued growth to Dubai's progressive aviation model.
"The key to our success has been our coordinated and supportive approach to aviation," said Sheikh Ahmed.
"Dubai has a model, unlike Europe and elsewhere, that recognises aviation's strategic importance and promotes growth in the sector. It starts with an open skies policy, competitive rates and a tax-free environment that has attracted over 130 airlines to Dubai and extends to strategic investments in top-flight aviation infrastructure that promote high service standards and sustain rapid growth. This combined with our geocentric location, which can effectively connect any two major cities in the world, will drive further expansion and continued benefits to consumers across the globe."
Paul Griffiths, CEO of Dubai Airports, said: "We surpassed our growth projections, ushered in Dubai's status as a twin-airport city with the opening of Dubai World Central – Al Maktoum International in June and celebrated Dubai International's 50th anniversary. The growth story continues in 2011 with passenger numbers expected to surge another 11 per cent to 52.2 million. As a result, we have plans to boost capacity on the ground and in the air to ensure we can accommodate the growth while improving service across the airport."
Follow Emirates 24|7 on Google News.