Dubai Airports launches artDXB showcasing local and international art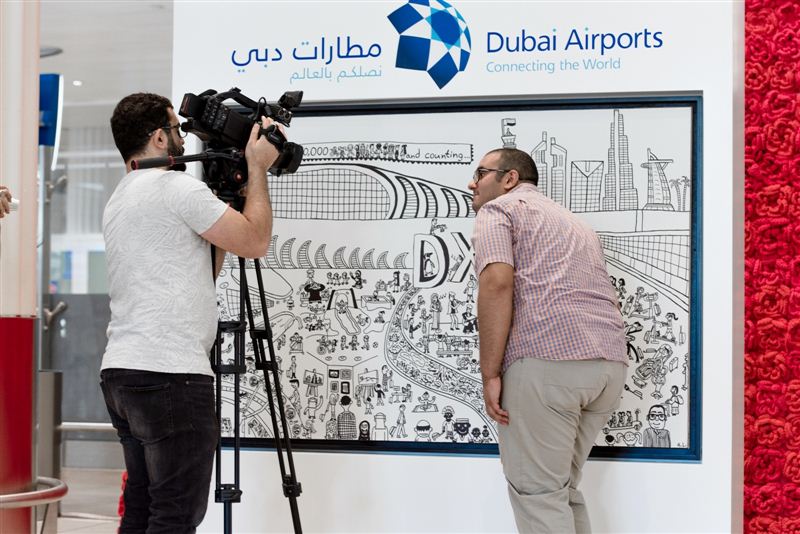 Dubai Airports today launched its artDXB initiative, which seeks to engage and entertain passengers by showcasing local and international art to the millions of passengers who travel through Dubai International every month, in collaboration with Mawaheb from Beautiful People, a Dubai-based art studio for adults with special needs.
As part of the collaboration, Dubai Airports will display works of art created by the talented artists of Mawaheb at Dubai International, bringing well-deserved recognition and acknowledgement for their creative works, while also raising awareness about the importance of providing opportunities to help them live fuller, more inclusive and rewarding lives.
The need to raise awareness is in line with a recent directive from His Highness Sheikh Mohammed bin Rashid Al Maktoum, Vice President, Prime Minister and Ruler of Dubai, who announced that people with disabilities and special needs should now be known as 'people of determination'.
Describing artDXB and the partnership with Mawaheb as a unique initiative that combines art, culture, global travel and corporate social responsibility, Anita Mehra, Senior Vice President of Communication and Reputation at Dubai Airports, said, "Dubai Airports is committed to giving back to the community and supporting local culture and art. Launching artDXB with Mawaheb is the perfect marriage of both and we are thrilled to profile the work of these talented, local artists to our passengers."
Wemmy de Maaker, Managing Director of Mawaheb from Beautiful People said, "The collaboration between Dubai Airports and Mawaheb is based on a long-term relationship. Together we will spread awareness about the determined ones living in the UAE and we will share their talent with the world by showcasing their beautiful art."
Follow Emirates 24|7 on Google News.