Dubai-based Filipino singer wins DSF raffle for the second time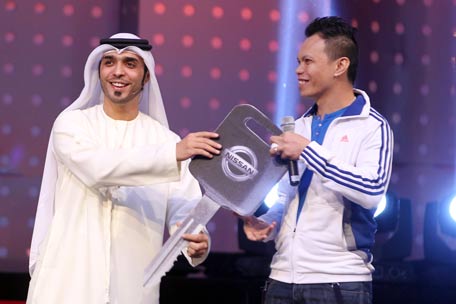 It sure seems to be promising start to 2014 for Filipino artist Jonathan Mosqueda, who won a car at the Nissan grand raffle at the 19th edition of the Dubai Shopping Festival (DSF).

"It has been the perfect start to the New Year," claims the elated 38-year-old winner. "It's a blessing for me. I am very thankful."

This is the second time that Jonathan, who sings at a Philippines Club in Al Rigga at night, got lucky during DSF. Last year too, the shopping festival proved lucky for him, when he won a LED television set as a part of a raffle draw.

He confesses that this time around, he thought someone was playing a prank on him when he got the call informing him of his win on Monday.

"I didn't believe it. I thought someone was pulling a fast one. I just played along," he admits, adding that he had put in three coupons and a couple more at the DSF draw.

"I could hardly hear the person on the other line. He confirmed my name and contact details and said that I had won the Nissan Grand Raffle."

The news, however, did create some excitement. "I work night shifts, but after I got that call I just couldn't sleep the next day," he adds.

"It was only when I got a call the next day from the organisers, Dubai Festivals and Retail Establishment (DFRE), an agency of the Department of Tourism and Commerce Marketing (DTCM), that I realised I had actually won the grand prize."

It's only after he got the confirmation that he called his mother, who lives in the Philippines, to tell her about the good news.

Jonathan had to pick a Nissan car from the line-up of 14 top models.

"I went to Global Village and had to choose a bowl from 14 lined up, and I got the Nissan Maxima."

He will get the car on Sunday, but since he doesn't have a driving licence, he plans to sell the car.

Jonathan, who has been living alone in Dubai for 11 years, has been buying coupons for DSF Mega Raffles for the last three years.

"I started out as an entertainer in Dubai, but last year, I tried a different line of work, and was with Mashreq for seven months. During that time I realised that my true calling is that of a singer."

Shoppers at the DSF can take part in the daily Nissan Grand raffle by spending at least Dh20 on all non-fuel purchases at Enoc and Eppco petrol stations.

Winners of the Nissan Grand raffle stand to get one of 14 Nissan models - Pathfinder, Armada, Murano, Xterra, Patrol, Qashqai, Juke, Maxima, Altima, Sunny, Tida, Micra Hatchback, Sentra and 370Z.
Follow Emirates 24|7 on Google News.