Dubai bus fare cheapest among 16 cities: RTA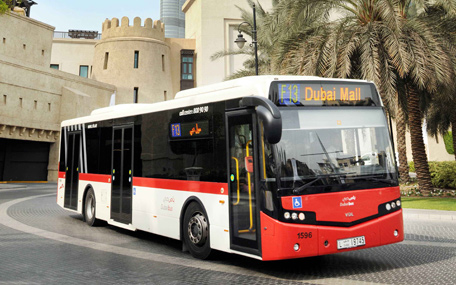 Over the past year, the growth rate in using the public bus service has increased by more than 7% and achieved over 110 million passengers till November 2013, while the total passengers for 2013 are expected to exceed 120 million.
The new projects and initiatives have enhanced the quality of product and the overall journey experience through the use of Wi-Fi technology, extensive express service, new feeder bus to metro and the catering service on the Dubai-Abu Dhabi intercity bus. This is strengthened by the use of sophisticated transport policies to support a sustainable growth. This is clearly illustrated through the use of integrated fare system.
Dr. Yousef Al Ali, CEO of RTA's Public Transport Agency explained that the Agency had implemented a comprehensive benchmark survey on the public bus fares and found that transiting via Dubai public buses is the cheapest when compared to 16 developed cosmopolitans namely, Istanbul, Prague, Budapest, Amsterdam, Turin, Madrid, Barcelona, Frankfurt, Paris, Vienna, Stuttgart, Berlin, Helsinki, Copenhagen, Stockholm and London.
"The survey on public bus fare had been carried out depending on a reliable international Public Transportation (PT) source to strike a comparison between Dubai Bus Fare and the same fare in a number of cities from different countries," said Al Ali.
"The Dubai public bus average fare is only (0.4) euro, around (AED2.12), which is the cheapest among the advanced cities selected for the survey, while other cities exceed the limit ranging from 2 to 10 times more than Dubai. The difference in bus service between Dubai and other cities is evident, taking into consideration the sophisticated bus network RTA is operating, which indisputably classifies Dubai Bus service as the best in the world not only in terms of fare, but also from other different perspectives including high quality, safety and luxury," he added.
Al Ali further explained that RTA's Public Transport Agency is running three types of public buses including Standard, Articulated and Double-deck, and the coaches servicing the Dubai-Abu Dhabi route. All RTA's buses are equipped with sophisticated technologies in safety and luxury in addition to facilities for the handicapped in order to make bus commuting experience easygoing, enjoyable and luxurious for this social cross-section. Facilities for the handicapped are also available at the air-conditioned bus shelters and stations.
CEO of RTA's Public Transport Agency reaffirmed that the public bus network is well-connected and integrated with other public transport modes in Dubai including the metro and marine transportation means of Dubai Ferry, Water Bus and Water Taxi.
Follow Emirates 24|7 on Google News.