Dubai Canvas Festival 2016: 60 artworks, 30 artists and 14 nations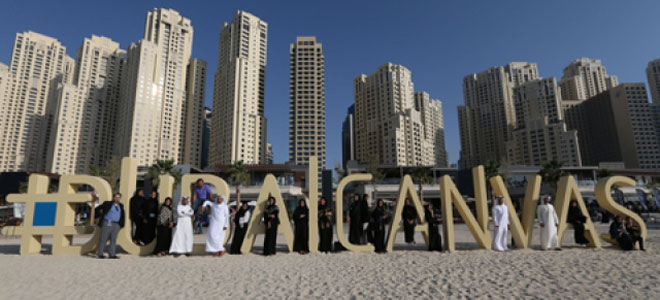 Brand Dubai, the creative arm of the Government of Dubai Media Office, has announced the second edition of the Dubai Canvas Festival will be held in partnership with Jumeirah Beach Residence (JBR), developed and managed by Dubai Properties (DP), from March 1 to 14.

The event will bring together many renowned local, regional and international artists.
Organising the global art event is part of Brand Dubai's efforts to implement the directives of His Highness Sheikh Mohammed bin Rashid Al Maktoum, Vice- President and Prime Minister of the UAE and Ruler of Dubai, to transform Dubai into an open-air art museum that reflects the vision, character and cultural diversity of the emirate.


Mona Al Marri, Director-General of the Government of Dubai Media Office. (File)

Mona Al Marri, Director-General of the Government of Dubai Media Office, said, "The success of last year's event and the positive response we received from the audience and art experts encouraged us to launch another edition of the Festival.

"Last year's success also inspired us to work harder to create an even more successful festival.

"We have introduced many changes to offer a different experience for the audience. At the 2016 festival, we will see an even broader array of exciting artists than last year. The artists have been carefully selected to ensure the audience will have an unforgettable experience.

"The works of these artists will be exhibited in an area stretching over two kilometres within Jumeirah Beach Residence in a way that encourages active public participation, engagement and interaction."

She said, "This collaboration with Dubai Properties' JBR will help us create a memorable event. We greatly value JBR's support for our artistic initiatives."

Arif Mubarak, Chief Executive Officer of Dubai Properties' Asset Management Arm under Dubai Properties Group, said, "JBR enjoys a significant track record of hosting major entertainment events, and is globally known as one of Dubai's key outdoor tourist destinations offering residents and visitors a wide choice of world-class entertainment and cultural experiences. "This event will add great value to JBR's events calendar, and we anticipate attracting a significant number of visitors during Dubai Canvas.

""The extension of the duration of the festival to two weeks, and the participation of a bigger number of artists encouraged us to expand the dedicated venue to two kilometres," he added.

In addition to over 60 artworks created by 30 artists from 14 countries, the second edition of the festival will feature many events on the sidelines including custom-designed workshops and activities for different ages.
Follow Emirates 24|7 on Google News.