Dubai Chamber takes UAE's #Year of Giving mission to Azerbaijan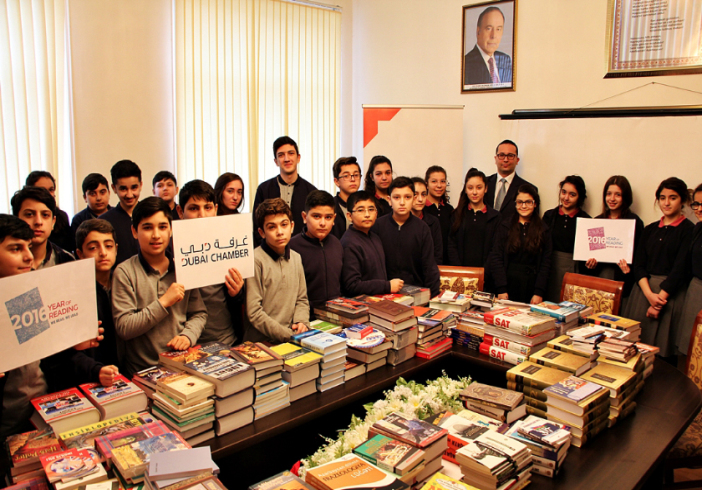 As part of its efforts to support and promote the UAE's #Year of Giving, Dubai Chamber of Commerce and Industry has announced that it has expanded its activities under the national framework to its representative office in Baku.
During a visit to the city's Specialised Foreign Languages School, representatives from the Chamber's Azerbaijan office donated educational materials, including nearly 600 books in several languages, reaching over 800 children.
The chamber's Baku team also gave a brief overview on the Year of Giving, the Year of Reading, and the various charitable initiatives it has supported throughout the UAE and abroad. The Azerbaijan initiative is part of a wider strategy to expand the role of the chamber's international offices to support various social causes in the countries where it operates.
Commenting on the initiative, Omar Khan, Director - International Offices, Dubai Chamber, explained the importance of fostering a reading culture within societies as well as the invaluable benefits it brings to youth. "Reading is an integral skill that enables children to learn about the world around them. By taking this important initiative abroad, we hope to instill a love for reading among hundreds of children in Azerbaijan and impact local communities in a positive way," he said.
Khayalah Ahmadzade, Director, Foreign Languages School, expressed her gratitude for the donation, which she says, will have a lasting impact on students' learning and development. "We will reserve these books in our library and create a system which will allow each and every student to benefit from such valuable sources of knowledge. I would like to thank Dubai Chamber once again for such an initiative carried out in our country, serving our community," she said.
President His Highness Sheikh Khalifa bin Zayed Al Nahyan recently declared 2017 as the Year of Giving in the UAE. The initiative focuses on three main themes, namely enhancing social responsibility in the private sector, building a culture of volunteerism across all segments of society, and promoting the concept of serving the nation among youth.
Follow Emirates 24|7 on Google News.