Dubai Civil Defence aims to achieve world's best fire-incident response time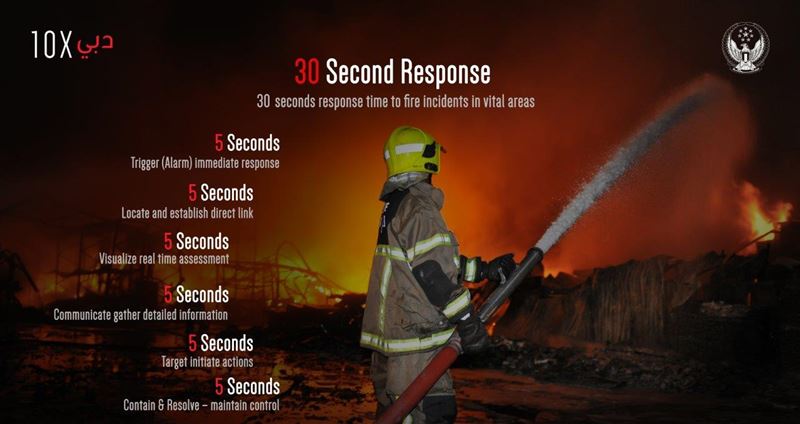 Dubai Civil Defence, in cooperation with Dubai Future Foundation, has successfully rolled out its '30-Second Response' project, which aims to achieve a fire incident response of 30 seconds in key areas.
The project was one of the initiatives launched by His Highness Sheikh Hamdan bin Mohammed bin Rashid Al Maktoum, Crown Prince of Dubai and Chairman of the Board of Trustees of the Dubai Future Foundation, at the sixth World Government Summit in February 2018, under the umbrella of the Dubai 10X initiative, which aims to place Dubai 10 years ahead of other cities of the world.
30-Second Response
His Excellency Major General Rashid Thani Al Matroushi, Director General of Dubai Civil Defence, said: "The '30 - Second Response' project will accelerate the Civil Defence response time to 30 seconds in vital areas. Real-time transmission of images and data using advanced technology to operations-room administrators, we will enable us to take rapid action."
His Excellency added, "The General Directorate of Civil Defence is responsible for responding to any fire incident in the least time possible. Currently, as per international best practice, we maintain a response time of 6-8 minutes for 80% of total communications. "We are committed to further enhancing the response time as part of contributing to realising the vision of Vice President and Prime Minister of the UAE and Ruler of Dubai His Highness Sheikh Mohammed bin Rashid Al Maktoum to make Dubai one of the safest cities in the world. Accordingly, we have invested in creating our own 'real-time response' process and benchmark."
His Excellency further said: "The project will help reduce the impact of incidents through a 'real-time response' within 30 seconds. This rapid response will help speed up evacuation processes and save more lives. Fire-fighting processes will be activated immediately through fire extinguishing systems and safety mechanisms in buildings."
"These measures, which represent the first step in our 'smart response' to fires, will be coordinated by UAE based technology company MGE. We also have a unique opportunity to use the Statistical Analysis System (SAS) for data analysis and risk reduction on a predictive basis.
"Following a review of the timelines for the risk assessment process in vital areas of Dubai, the first phase of the new initiative will be rolled out by the end of 2018," he said.
Brainstorming sessions held by the Dubai Civil Defence team since the launch of the Dubai 10X initiative provided an opportunity to generate exceptional ideas to improve basic operations, combining 'real time' data and on-site control procedures.
His Excellency said, "Dubai is among the fastest growing, safest and most technically advanced cities in the world. It provides the physical, human and technical infrastructure for ensuring safety in the most time effective, cost-efficient manner. This initiative will contribute to enhancing the reputation of the UAE globally and making it one of the best countries in the world in security and safety. Compared to the global response-time benchmark of 6-8 minutes for at least 80-90% of the total number of fires in a jurisdiction, we aim to reduce the response time to 30 seconds. It is a response time that has not been achieved by any fire-fighting unit in the world."
Follow Emirates 24|7 on Google News.