Dubai cracks down on winter camps violating rules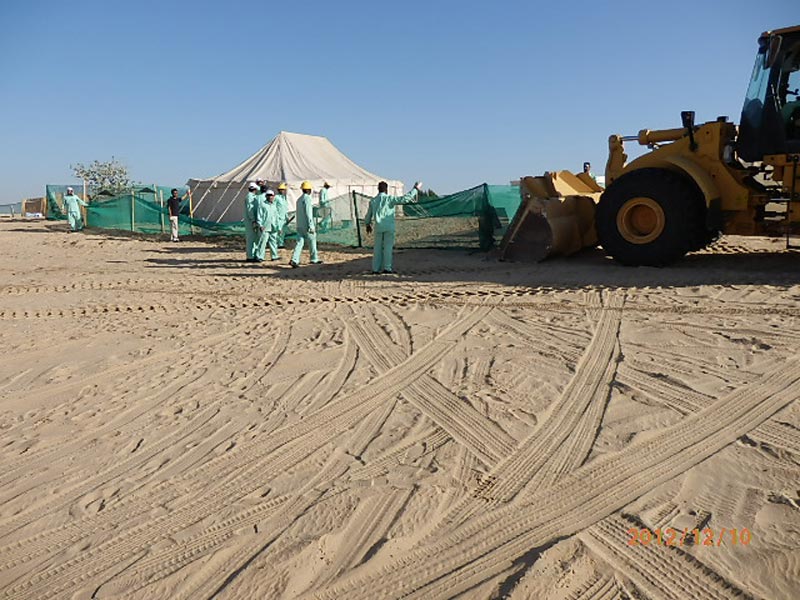 The Building Department of Dubai Municipality has been cracking down on winter camps that violated the camping rules in areas adjacent to University City Street, Wadi Al Amradi, Wadi Al Shabak, Al Warqa 5, Al Tayy until the end of April 2013.

Yusuf Abdullah Marzouki, Acting Director of Buildings Department, said civic body inspectors have been monitoring the compliance of these camps with the security, construction and environmental requirements set by the department.

Jaber Ahmed Al Ali, Head of Building Inspection Section, said the total number of temporary winter camps this year is 628 out of which 474 temporary camps are licensed. Hence, the municipality cracked down on a total of 154 camps which have no license and don'tcomply with the requirements.

Winter camping requirements were previously announced via local media and on instruction boards in areas of these camps. They are as follows:

1. Camps should be for temporary private use during the winter and not allowed to be leased or used by third parties.
2. Camps should comply with the law, norms, customs and traditions in force in the emirate of Dubai.
3. It must be used in accordance with the limits described in the permission and walls or fences are not allowed around the site.
4. A copy of the permission should be placed in a visible place on the tent to show the municipal inspectors upon request.
5. Camps should be built using temporary materials and provided with fire extinguisher.
6. The site must be kept clean. Throwing or removing or transferring waste by camp owner in the camp site or designated areas Is not allowed.
7. Use proper tools in barbecue and campfire and do not leave residues and charcoal of barbecue in camp site or damage the desert environment.
8. Do not use floodlights and amplifiers, respect the privacy of others and do not disturb others.
9. The security amount will be seized in case of breach of any condition of the permit.
10. The municipality has the right to remove the camp at any time and refund for the period after removal.

Jaber further said the municipality had notified the camp owners and gave several deadlines through the local media to contact the department to obtain the necessary permits.
He added that the municipality is keen to maintain the terrestrial environment and had formulated guidelines and prepared sign boards for camp owners to maintain the cleanliness of the place. The temporary camps should be removed after the specified period by the end of April 2013 without leaving any residues of the camp.

He urged the public to cooperate with the municipality by reporting any violation through the toll-free number 800900.

Follow Emirates 24|7 on Google News.