Dubai divers save drowning 'Saddam Hussein'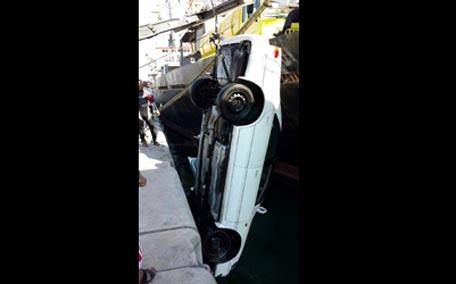 Dubai Port Rashid divers saved the life of Saddam Hussein as he got stuck inside his car which fell into the water as he was trying to load a personal cargo.
Saddam Hussein, a Pakistani expatriate living in Dubai, was told by port workers to move the car to the loading area to get his cargo.
Instead of stopping at the designated place, he pressed on the gas by mistake, with his car ending up deep into the Gulf water.
Ten divers who arrived aboard a speed boat nearly 10 minutes later found the car settled at the bottom of the sea with Saddam Hussein's hand stretching out of the window as he had tried to get out of the vehicle.
"His hand got caught by the window because of the pressure down there…but the divers managed to free it and pluck him out. He was rushed to hospital after spending nearly 10 minutes under the water," Emarat Al Youm daily said, quoting Lt Colonel Jumma Al Falasi, head of the rescue division at Dubai's police.
Follow Emirates 24|7 on Google News.