Dubai doctors perform rare four-joint replacement surgery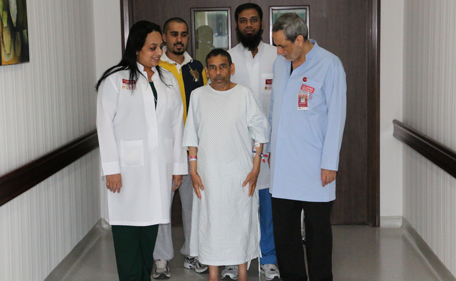 A team of Dubai doctors headed by Dr Samih Tarabichi have set a world record after successfully performing four joint replacement surgery on a 65-year-old patient at the Burjeel Hospital for Advanced Surgery.

"The procedure is really rare and has never been performed in the US or Europe," said Dr Tarabichi, director general of the hospital and Tarabichi's Centre of Joint Surgery.

"The patient was suffering from severe rheumatoid arthritis and it had led to deformity in his knee and hip leaving him crippled," he added.

"In the West, he would have gotten proper care at the onset of the condition and hence the need for such a surgery would not have arisen. However, in this region most seek medical help once the disease has progressed.

"Initially we planned to do two surgeries – one for his hip and one for his knees. However, evidence and our past experience have shown that infection and complications arise when a patient is subjected to two surgeries within a week. Also, if we had only done the replacement surgery on the knees, over time the deformity would have returned because he wouldn't have been able to straighten the hip. To eliminate this, the surgeries had to be conducted simultaneously."

Dr Tarabichi took the call only after consulting the anaesthesiologist and cardiologist to determine if the patient was fit to undergo such a strenuous surgery.

"When Najem A H Kh Alkhalfan came to us he was severely crippled. I had to determine whether his body could withstand the blood loss that comes with the surgery. I ruled him fit especially since no complications would arise since he was not obese, diabetic or hypertensive," added Dr Aruna Varma, anaesthesiologist.

"We were confident the procedure will go well because this is a specialized joint repair centre and we do close to 1,000 joint replacement surgeries annually. We optimised the operating time to reduce blood loss and used many blood conservation strategies."

Dr Tarabichi and Dr Varma both recognised the patient's positive mindset as a contributing factor to their decision to go ahead with the surgery.

"When I was being wheeled to the operating theatre, I was not nervous. Rather, I was optimistic. I travelled from Kuwait to Dubai because I had stellar recommendations of Dr Tarabichi and the hospital," said Najem.

Dr Varma opted for an epidural instead of general anaesthesia for Najem, so he could be interactive during the operation.

The surgery was done in less than five hours, where the doctors first fixed the knee before moving to the hip.

The day after the surgery, the patient was moved from the ICU to a normal room to recover.

A day later, he started physiotherapy. "We have started the patient on passive physiotherapy. While in the beginning he has to walk with the aid of a walker, in 3 to 4 weeks we hope to have him walking without any assistance," said Dr Faisal Hayat Khan.

"Even though it is the first time such a surgery has taken place, we aren't following a special protocol and are planning to treat him like we would a patient who has undergone a bilateral knee reconstruction."

Najem is optimistic, and confident that he will be able to go running soon. "I want to be able to pray, to prostrate before God. Once I am up and running, I also want to invite my entire family and host a big feast," he said.
Follow Emirates 24|7 on Google News.