Dubai frontrunner to buy underwater 'Discus' hotel: report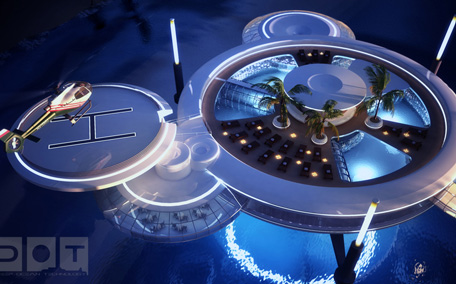 Construction of the Water Discus Hotel will start this year in Gdynia, Poland, with Dubai and the Maldives showing interest in purchasing of the prototype, according to information published by a Polish government agency.

In a newsletter issued on January 10, 2013, the Polish Information and Foreign Investment Agency said the prototype of underwater hotel would be created in Gdynia with funds of the European Union's Innovative Economy Programme.

"Due to EU funding of PLN16 million (Dh19 million) the scientists from Gdańsk University of Technology in cooperation with specialists of Deep Ocean Technology are working on a project entitled: "Conducting research and design construction of underwater & above water facility for research purposes."
Photo by Deep Oocean Technology.com

It added: "Hotels in the Maldives and Dubai are already interested in purchase the construction."

The hotel designed by engineers from Gdańsk will be based on two discs: underwater, submerged to a depth of approximately 10 meters in which is located about 20 rooms and twin disc, which is located above the water. Both components of the structure are connected with strong outriggers and vertical route with elevator and stairs.

In May 2012, Drydocks World, the shipbuilding arm of Dubai World, said it has signed a deal with Big Invest Consult, a Swiss company, representative for Deep Ocean Technology, the Polish owner behind the technology and concept of Water Discus hotel, to develop underwater hotels and floating cities.
Photo by Deep Oocean Technology.com

According to the deal, Drydocks and Maritime World are appointed the exclusive main contractor for the construction of the new concept hotels and cities floating in the Middle East.

Due to its unique design, Deep Ocean Technology says that Water Discus can be expanded into a bigger resort complex and can be customized to suit the surroundings and the clients.

If any changes in environmental or economic conditions occur, the Water Discus modules can be transferred to a different place. This offers a unique opportunity to live underwater on a permanent basis with unlimited options to change locations.
Follow Emirates 24|7 on Google News.