Dubai gets 2 more Halal Zones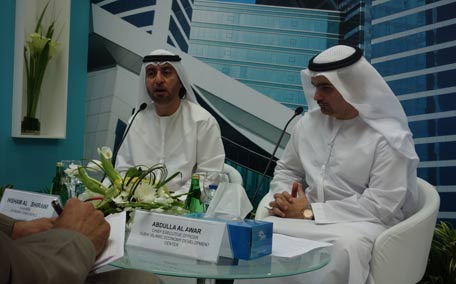 Economic Zones World (EZW), in collaboration with Dubai Islamic Economy Development Centre (DIEDC), on Wednesday announced the plan to develop two world-class Halal Zones, specifically designed to cater to the regional and international Halal Product markets.

Hisham Abdullah Al Shirawi, Chairman, Economic Zones World, and Abdulla Al Awar, CEO of Dubai Islamic Economy Development Centre were present for the announcement.

Earlier this week, Dubai Industrial City, a member of Tecom Investments, also announced launch of Halal Cluster at Gulfood exhibition.

"The move is part of Economic Zones World's initiative in pursuant to His Highness Sheikh Mohammed bin Rashid Al Maktoum's, Vice-President and Prime Minister of UAE and Ruler of Dubai, clarion call to develop and position Dubai as the world's Islamic economy capital. Since Halal products and services are one of the key components of Islamic Economy, the EZW's move is a major step forward in that direction. EZW aspires to become one of the world's key hubs for halal products trading, services, and manufacturing.

"The initiative will meet the longstanding demand of EZW's existing, over 700 leading companies in food & beverages, pharmaceutical - healthcare and cosmetics sectors. These companies together generate trade worth Dh16.8 billion. A large number of these companies are engaged in the business of production, marketing and distribution of halal products in their respective sectors."

Commenting on this occasion, Essa Kazim, Governor of DIFC, Chairman of DFM and Secretary General and member of the board of the DIEDC, said: "Halal sector is one of the key pillars in the global Islamic Economy. The importance of Halal to the overall Islamic economy can be gauged by the fact that the global Halal market is valued at $2.3 trillion and it is estimated that one out of every four human beings consumes halal products.

"Given the latent demand, the potential market for Halal products and services is huge and will continue to grow. It is critical, therefore, that an enabling infrastructure, supported by robust standards and regulations is developed to take the industry to the next stage of development. DIEDC will play a critical role in developing the framework to support partner initiatives that will contribute to the growth of this important economic activity."

Abdulla Al Awar, CEO of Dubai Islamic Economy Development Centre, said: "We are pleased to support EZW in the development in their Halal Zones, and are confident that both entities will help to drive growth and awareness of the Halal industry, one of our seven strategic pillars.

"The Dubai Islamic Economy Development Centre will work closely with the Halal Zones and their parent organizations to develop the halal products and lifestyle sectors, while adhering to and promoting strong and consistent standards within the industry."

EZW plans to develop Halal Zones as all-inclusive hubs, supported with world-class infrastructure, perfectly suited to attract leading enterprises in the entire gamut of halal industry.

Halal Zones will integrate a one-stop-shop system to service each and every need of customers in the halal supply chain, offering ease of doing business.

EZW seeks to collaborate and attract organisations, associations, accreditation bodies, R&D, as well as advisory firms to support the entire halal value chain right from R&D, product development to sourcing, production, logistics, sales and marketing.

The group seeks to promote the Halal Standards globally, which are being evolved through the efforts of Emirates Authority for Standardization & Metrology and Dubai Accreditation Department, to attract enterprises within the Halal industry.

EZW has allocated infrastructure-ready plots of land for Halal Zones in Jafza and TechnoPark. Jafza Halal Zone will be built on an area of over 850,000 square metres while TechnoPark Halal Zone will be spread over a plot of over 700,000 square metres.

Multi-phased EZW Halal Zone Development Plan will also identify laws, regulations, and licencing needs of the Zone and draft laws and regulations accordingly. It will also setup the internal processes and systems to automate different processes.

The Free Zone will also engage in proactive promotion of Dubai Halal standards in existing community and initiation of global marketing campaign.

The value of halal food industries in the world is estimated at $2.3 trillion, which accounts for 20 percent of the total food sector in the world. Trade in total halal products will continue to grow at more than 4.8 percent annually to reach about $6.4 trillion in 2020.
Follow Emirates 24|7 on Google News.