Dubai has 'world's smallest ambulance' for off-roaders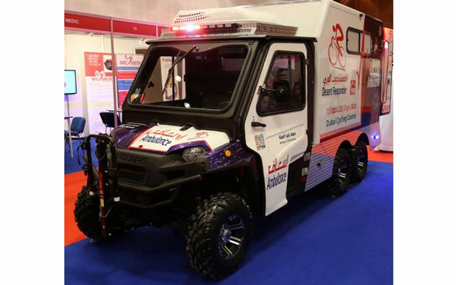 The 'world's smallest ambulance' has taken to Dubai's rugged desert terrain in a bid to reduce the number of off-roading fatalities due to inability to access such remote sites.

The Dubai Corporation for Ambulance Services (DCAS) unveiled the Desert Responder last week, it's latest super 'car' that is shaped as a 6X6 ambulance, touted as the smallest fully equipped emergency vehicle in the world and that can yet fit a full size cot and seating for up to two attendants and a driver.

In a city where 1.4 million registered cars can officially take to the roads – many of which are SUVs with an off-roading culture – DCAS' latest addition its fleet of first responders will be able to "navigate through a large crowd, access hard to reach off-road locations and maneuver through narrow passages," according to the authority.

The new vehicle will also service as an emergency responder for cyclists that travel through rugged desert terrain.

In a statement to Emirates 24|7, the DCAS spokesperson said: "The new Desert Responder is designed to reach where no ordinary ambulance or first responder can reach.

"It is the safest UTV based off-road ambulance on the market and has been extensively tested by an independent testing facility (Transportation Research Center) in fully loaded conditions."

The DCAS has stated the ambulance has also been 'tile table tested to 24 degrees, while conquering a maximum slope of 31 degrees.

DCAS further stated the fully enclosed, all aluminum patient compartment, has been modified to include a lighting system, a generator, an electric system, an A/C and more, along with being equipped to carry up to four bicycles at once.

Last year, the DCAS added a Lotus supercar to its fast fleet, which already includes two Ford Mustangs.

At the time, an official from DCAS told Emirates 24|7: "These supercars will serve as the first respondent vehicles during emergencies and will be stationed near Burj Khalifa and the Jumeirah Beach Residence (JBR), where you have a high influx of tourist traffic.

"The idea behind adding these sports cars to the fleet was also to ensure that these compact cars can reach places that were once inaccessible to the bigger ambulance vans."

The interiors of the Lotus and the Mustangs have been designed by Dubai Ambulance, which are kitted out with 60 per cent of the medical equipment that you would find in a full-sized paramedic van.

The official further revealed: "From oxygen to minor surgical procedures, we have everything in these supercars that is required until the emergency backup arrives on the scene."

These supercars are expected to reduce the response time from the current eight minutes to four, which could make all the difference between life and death during an emergency.

The DCAS fleet also includes two ambulance bicycles, along with four bikes, for rapid intervention during emergencies.
Follow Emirates 24|7 on Google News.