Dubai Health Authority launches unified electronic medical record system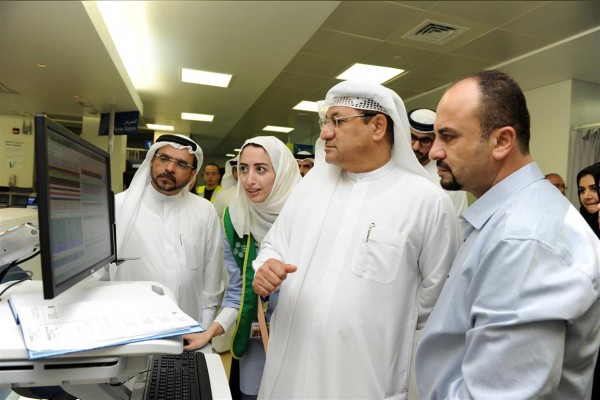 Salama, a new central database that unifies all medical records of five healthcare facilities in Dubai, was launched on Friday, Dubai Health Authority announced.
Salama centralises access to records for patients and doctors through the new portal across Dubai Health Authority, DHA, facilities.
Rashid Hospital, Al Barsha Medical Centre, the Airport Medical Centres, the Rehabilitation Centre at Al Safa and the Safa Dermatology Centre have gone live with the unified electronic medical record, EMR, system for its patients.
Humaid Al Qutami, Chairman of the Board and Director-General of DHA, oversaw the operational process at Rashid Hospital and Al Barsha Medical Centre, and personally followed the first registration of patients at these two facilities.
Each and every patient registered in these centres will have one integrated medical file across all facilities that will help the doctor follow a treatment protocol in the event of a hospital transfer and to ensure homogenous treatment.
"We offered the fruits of a qualitative transformation that we are experiencing," he said, affirming that the inclusive development policy implemented by the DHA serves members of the public as well as medical, nursing, technical and administrative teams."
Amani Al Jasmi, Director of DHA's IT department, said Salama has so far unified about 1.4 million records and more than 12 million transactions have passed through this system.
"We have been working on the EMR since 2016.
The programme we follow is EPIC from the USA.
The system is so efficient that it has multiple core applications. It integrates 25 applications through a single interface.
Now the patient's appointment, queue management, radiology, pharmacy, laboratory information system, dental records, information about the patient on biomedical devices such as dialysis machine, ventilator, cardiac machine etc., will all be integrated through the EMR," Al Jasmi said.
He added that unifying records would help create a more streamlined and better healthcare delivery system that would ensure patient safety and accuracy.
The roll-out of Salama is planned in three phases, dubbed as "Waves".
Wave 1 was launched on Friday. Wave 2 will integrate all medical records at Dubai Hospital, DHA primary health centres and the Dubai Diabetes Centre by August 2017. Wave 3 will cover the Hatta and Latifa hospitals, all speciality clinics such as the Dubai Gynaecology and Fertility Centre, the Dubai Genetics Centre, the Thalassaemia Centre and other remaining clinics.
While Salama integrates medical records electronically in DHA-run healthcare facilities, it is just steps away from facilitating a national unified electronic medical record, Al Jasmi said. After these phases are over, Salama will integrate with "Nabid" the electronic health record, EHR, a national electronic medical record system.
In two years, every resident will have one integrated medical record in the UAE.
Follow Emirates 24|7 on Google News.