Dubai healthcare group to go public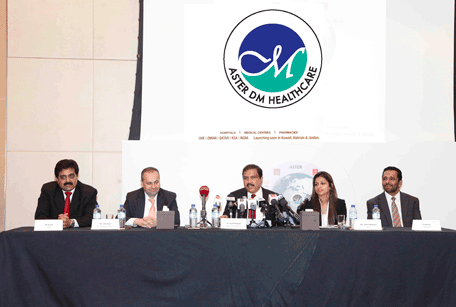 Dubai-based Aster DM Healthcare will launch a $200 million (Dh734 million) initial public offering in the next financial year starting from March 2014, said a senior company official.
The group is currently being advised by US banks JP Morgan, Goldman Sachs and Bank of America-Merrill Lynch on the size of the company, the size of the IPO and where to list.
Dr. Azad Moopen, Chairman and Managing Director of Aster DM Healthcare, told media on Wednesday that the US banks are auditing the company.
"We'll launch an IPO next financial year of about $200 million. Banks are evaluating the company's books and expect the company's size to be in the range of $1.5 billion to $2 billion," Dr. Moopen said.
Commenting on listing, he told Emirates 24l7 that the option is to list on London, Mumbai or Dubai stock markets.
"It's too early to comment on where we'll list as talks are still underway with the banks. There are different aspects that we're looking at right now. We're also waiting for the Indian elections outcome; if the new government is strong and it gives momentum to the markets, then we can go for Mumbai IPO," Dr. Moopen added.
The IPO, according to Aster DM Healthcare chairman, will be open for retail investors and corporates.
UAE-based group NMC Healthcare raised £117 million through listing its shares on the London Stock Exchange in 2012 due to strong liquidity on the bourse. Aster DM Healthcare is also keen to follow its footsteps by listing on the London bourse.
Aster claims to be the largest private healthcare provider in the Gulf region with over 175 facilities including hospital, medical centres, clinics, diagnostic centres and pharmacies.
Dr Moopen also announced major expansion of the group in the UAE, neighbouring Gulf countries, India and Philippines. It will open three hospitals, a number of new pharmacies in the UAE and a major healthcare facility in Kerala, India.
Aster DM Healthcare chairman expects group revenues will rise to $1.12 billion in 2017 and $6 billion by 2025, becoming a major global player.
Follow Emirates 24|7 on Google News.