Dubai Miracle Baby: Weight less than an iPad; most premature to survive?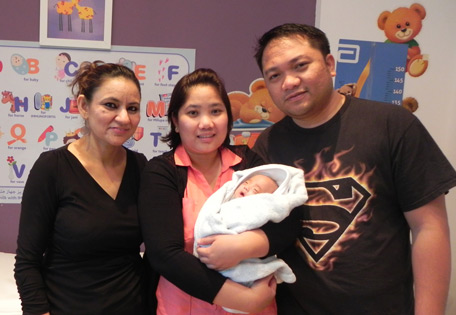 Parents of a baby, who weighed less than an iPad when born 14 weeks prematurely in Dubai, have paid an emotional tribute to the medical team who performed a 'miracle' to keep their son alive.
Digital sales specialist Christopher Sacramento and his wife Susie have been told that son Nicholas is possibly the most premature baby to survive in the UAE.
He was born when Susie was in her 23rd week of pregnancy, weighing just 530 grammes, and spent almost four months in Zulekha Hospital's Neonatal Intensive Care Unit in Dubai.
Nicholas – classed as a micro preemie because he weighed less than 900 gms – is now doing well at home with his parents. But at one point doctors feared the child may not live because his skin was so delicate it would tear if they touched it.
"We stayed in hospital for almost four months," said Christopher, adding, "It was long and very emotional. It was very challenging, but full of miracle."
Consultant Neonatologist Dr Monika Kaushal said, "Nicholas is likely to be the most premature baby to survive in this country. At birth he weighed just 530gms, less than an iPad.
"He belongs to a new group of babies known as micro-preemies. The chance of survival and normal development for a 23-week preterm infant is generally very bleak and Nicholas's survival is intact since there was no damage to brain, lungs or eyes.
"While the first 'golden hour' after birth is crucial for premature babies, this is reduced to a 'golden 10 minutes' in neonatal care.
"Nicholas was given special medicine for his lungs, special equipment for temperature maintenance, transport, and hooked to a ventilator in NICU. He survived despite having immature lungs, immature gut, brain and skin, fragile bones and, above all, infections. We could not touch him as his skin would tear instantly."
But after 110 days of nurturing in the Zulekha Hospital NICU in Dubai, Nicholas, weighing a much healthier 1.9 kg, was able to go home with his parents.
Currently, Nicholas requires special check-ups on his physical growth and neurological development on a weekly basis, but his visits to Zulekha Hospital should become less frequent with time, according to Dr Kaushal.
Follow Emirates 24|7 on Google News.