Dubai Municipality joins Gulf Municipalities in celebrating GCC Food Safety Week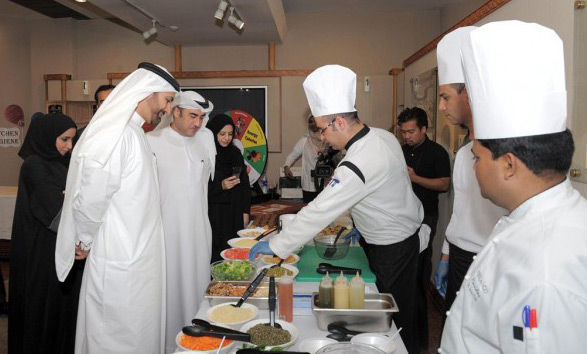 Dubai Municipality joined the Municipalities in the Gulf in celebrating the first GCC Food Safety Week, which is being organised from 15th to 21st April with a wide variety of activities aimed at creating increased awareness about the food safety.
Dubai Municipality kicked off its week-long activities, organised under the slogan, "Together for Food Safety," with a conference on Food Safety Trends at Meydan Hotel on Saturday.
On Sunday, the Municipality organised a special food safety awareness programme for its staff at its headquarters. The event, which included seminars on significant food safety related issues and an exhibition, was inaugurated by Khalid Mohammed Sharif, Assistant Director General for Environment, Health and Safety Control Sector by cutting a ceremonial cake in the presence of and senior officials of the Municipality.
The seminar discussed subjects such as How to Eat Healthy at Work, Key Steps to Prevent Food Poisoning while Traveling, Know about Food Allergies, Keeping your Family Food Safe, and Ask the Experts about Food Safety and Nutrition.
The three sessions of the Food Safety Trends conference on Saturday were short one-day workshops targeting food safety professionals and the food industry. These workshops saw a diverse range of topics addressed, including epidemiological investigations of food poisoning outbreaks, sea food fraud and the use of technology and big data in food safety.
On Tuesday, the Municipality's Food Safety inspectors will be given PFGE training at Al Twar Centre. PFGE (Pulsed Field Gel Electrophoresis) is a molecular fingerprinting technique used to classify bacteria based on restriction sites within the bacterial genome beyond the species level.
The Municipality's activities during the GCC Food Safety Week will conclude with a public event in Zabeel Park from 3pm to 7pm on 21st April. Public will be engaged in the activities with Quiz and interactive educational programmes, in addition to handing out food safety brochures, and giveaways of packed food items for participants.
Follow Emirates 24|7 on Google News.