Dubai Municipality to organise Hatta Honey Festival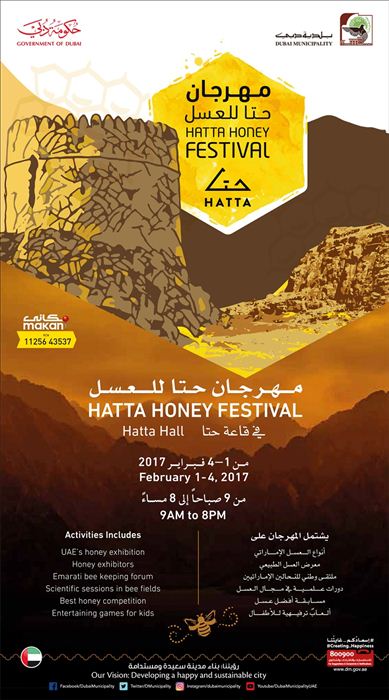 As part of Hatta's comprehensive development plan launched by Vice President and Prime Minister of the UAE and Ruler of Dubai His Highness Sheikh Mohammed bin Rashid Al Maktoum, Director-General of Dubai Municipality Eng.
Hussain Nasser Lootah will open the Hatta Honey Festival, the first event of its kind in the UAE, in Hatta Heritage Village.
The four-day event, which begins 1 February, will see the participation of 25 beekeepers, both from the UAE and from overseas, who will showcase different varieties of natural honey products made in the UAE and the wider region.
The event is part of a larger initiative to enhance services and tourism facilities in Hatta.
The Festival will feature a number of activities and events on the sidelines including tent shops, an exhibition for honey products, lectures, specialised sessions and training courses on beekeeping.
The Festival will introduce the public to different types of honey and how to identify these based on color, texture, taste and smell.
Dubai Municipality is one of the authorities responsible for supervising the comprehensive development plan of Hatta.
The Dh1.3 billion plan is aimed at further developing Hatta socially and economically by raising its profile and transforming the area into an attractive destination for eco-friendly tourism.
Follow Emirates 24|7 on Google News.