Dubai plans 'ultimate airport' with rail integration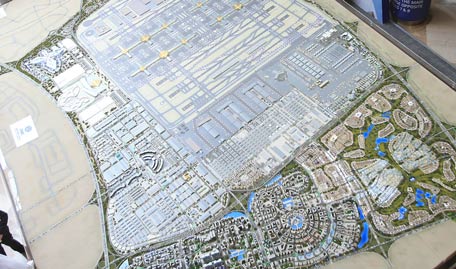 Dubai Airports has unveiled the expansion plans of Al Maktoum International at Dubai World Central, boosting passenger capacity from the current six million passengers to 26 million by 2018.
Following phase 2 of the expansion, the 'ultimate airport' will hold a passenger capacity of 240m and is expected to be completed in 2025.
Enhanced features would include downtown check-in facilities, rail integration and enhanced security measures that facilitate security pre-clearance for passengers before they reach their final destination.
Unveiling the plans at the ongoing Arabian Travel Market exhibition, Dubai Airports CEO Paul Griffiths also confirmed the new Concourse D at Terminal 1 of Dubai International was in its final stages of a $7.8 billion investment programme.
Griffiths said: "Concourse D is in its final phase of the $7.8 billion investment programme; we are going to take it from the contractor in the next few weeks.
"Once opened, we will be able to accommodate 18m passengers annually."
Linked to Terminal 1 via an automated people mover, the new concourse will be spread across 65,000 square metres, with 32 gates (21 contact stands, 11 remote).
Griffiths further explained: "Check-in for Concourse D will ferry passengers in a train of five carriages, with 300 passengers at full capacity. The need to walk long to your gate will be eliminated."
Incorporating an open-gate concept, the new Concourse will also serve 20 new restaurants, along with hosting nine airline lounges.
The refurbished Terminal 1 will have 207 check-in desks and four over-sized baggage check-in desks spread across six check-in zones for different airlines
The new Terminal 1 will also feature 15 per cent more check in counters, self-check in kiosks and in-line security screening of baggage at check-ins, as well as 30 per cent additional counters for immigration (arrivals) to ensure passenger comfort.
"However, with this we will eventually run out of expansion capacity at DXB International," said Griffiths.
DWC expansion
Griffiths further revealed, Dubai Airports initial target was 100m passenger capacity by 2020, however, the forecast was 20 per cent higher.
"Traffic projection sees the raw demand increase to 126m traffic; to accommodate that, DWC will have to undergo a significant expansion," he said.
Currently, the building is designed for 6m passengers, which is targeted to increase to 26m by 2018, which Griffiths said would "facilitate the growth of DWC that will start the migration of airlines and customers from DXB to DWC".
He continued: "However, this is a prelude to DWC's capability, which holds the ultimate space to turn into an airport handling 240 m people per annum. We have the vision to be the world's largest airport."
In a bid to "reinvent the airport experience", the expansion design will see the emergence of airport zones with circulation hubs, each handling 20m people at a time and connected by rail.
He continue: "When unveiled in its entirety, DWC will handle 120m passengers, large enough to handle the Emirates Hub when it migrates from DXB to DWC. Our ultimate capacity remains 240m."
Speaking further about the futuristic airport, Griffiths stated: "We are reinventing the airport experience. Part of this will entail dealing with baggage before you arrive at the airport; the ability to check in baggage before you leave in the taxi, so you arrive straight to the belt and your destination.
He added: "We will integrate rail travel into the new airport with downtown check-ins for your luggage to be retrieved at the next destination.
"Enhanced security and immigration measures can include facial recognition, an enhanced digital footprint."
Quizzed whether security pre-clearance measures could be incorporated and Griffiths added: "While Terminal 1 is largely an integrated experience, Phase 2 of DWC would allow us to facilitate pre-clearance much like Abu Dhabi Airport offers for US passengers."
Follow Emirates 24|7 on Google News.