Dubai Police adds McClaren to its fleet of supercars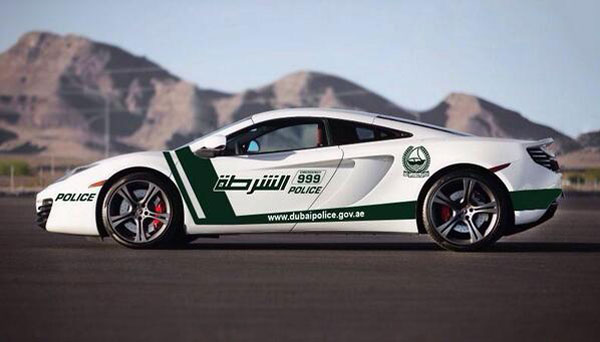 Yes, they have done it again.
Just when you thought the Dubai Police battalion of supercars couldn't get any grander, the boys in green go out and snap up a McLaren 12C coupe.
The car was unveiled in all its livery on the authority's official Twitter account, which simply stated the obvious: "Dubai Police latest Super Patrol Car. The McLaren MP4-12C."
Those on Twitter didn't appear to be surprised by this latest edition the grand fleet of supercars that Dubai Police has been unveiling all year long, with several saying this was only a matter of time to coincide with the historical win of the Expo 2020 bid on November 27.
If you are a Formula 1 McLaren fan, then this 3.8-litre V8, twin-turbo engine beauty boasts a similar carbon fibre chassis and parts to deliver it 616 bhp.
This technical masterpiece can accelerate from 0 to 97 km/h in 2.9 seconds and 0 to 200 km/h in 8.9 seconds, with a top speed of 333 km/h.
And if that wasn't enough to impress you, it's official page boasts that the car can brake from 200 km/h to a complete stop in under
five seconds.

In case you have failed to keep track (we know we have), Dubai Police now boasts a grand total of 13 cars in its supercar fleet, which started off with a Lamborghini Aventador.
Since, the multi-million dirham fleet has gone on to include a Ferrari FF, a Bugatti Veyron, an Aston Martin One-77, a Mercedes SLS, a Bentley Continental GT and a BMW.
November's Dubai Motor Show also saw the inclusion of two Audi R8s, a Mercedes G class Brabus, a Mercedes SL 63 and a Nissan GTR.
Addressing the media at the motor show, Brigadier Nabil Abdulla Al Redha from Dubai Police said: "When we launched the first car earlier this year – the Lamborghini – we studied the impact of this car.
"We looked at the reaction of the people and we discovered it was a good impact and good advertisement, so we decided to expand. We mostly use the cars in places that have lots of tourists, allowing them to take pictures. This is promoting the image of Dubai to the world."
While Dubai Police officials have estimated the complete fleet to be worth Dh15 million, the Aston Martin alone is rumoured to cost Dh11m, while the McClaren is another Dh1.1m as per estimates.

Follow Emirates 24|7 on Google News.