Dubai Police adds NISMO power to its luxury fleet of cutting edge police vehicles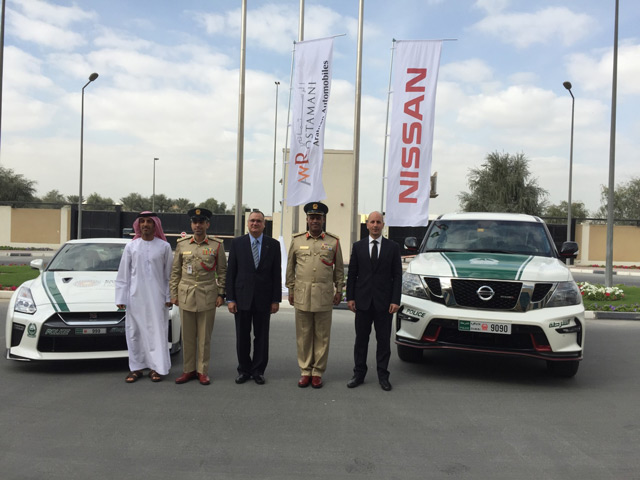 Dubai Police have added the recently launched Nissan Patrol NISMO to their fleet of luxury cars. With a 5.6 liter V8 engine producing a powerful 428 horsepower, the Nissan Patrol NISMO is the performance-inspired version of Nissan's legendary Patrol.
The Patrol NISMO joins the Dubai Police fleet following a recent partnership between Dubai Police, Nissan Middle East and Arabian Automobiles / AW Rostamani Group, the exclusive distributor for Nissan in Dubai and Northern Emirates, that will see the implementation of a new, innovative road safety service called 'Automated Collision Detection and Smart Response'.
A first of its kind in the Middle East, the service sends an autonomously alert to Dubai Police's General Department of Transport and Rescue in the event of a collision or accident that results in a rapid deceleration of the vehicle.
The new safety system harnesses the power of Nissan's SmartCar app which was jointly developed with Nissan's strategic partner Bright Box Middle East, and uses exclusive Etisalat M2M SIM Cards launched during the 2015 Dubai International Motor Show to provide point to point communications between the vehicle and the police.
Nissan's SmartCar application is already a huge success with thousands of Nissan Maxima and Patrol owners, allowing them to enjoy advanced features including remote vehicle start and air conditioning controls, control of the door locks, the horn, headlights and windows.
SmartCar app also allows owners to track their vehicle's physical location in real-time from anywhere in the world.
The Nissan Patrol NISMO joins the 2017 Nissan GT-R 'Premium Edition' that was also recently added by Dubai Police to its fleet.
Follow Emirates 24|7 on Google News.