Dubai Police confirm 'Medwakh' tobacco free of marijuana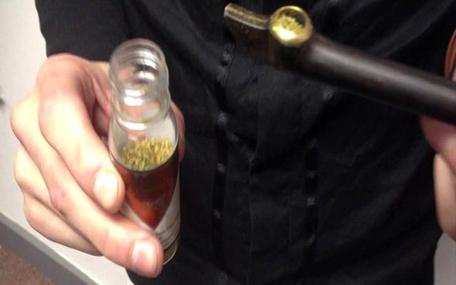 Dubai Police has confirmed that 'Medwakh' tobacco does not contain marijuana, it was announced at a press conference on Thursday.

It said the result of the rapid screening test conducted earlier was proved to be incorrect.

The new conference was attended by Col. Fahd Al Mutawa of General Department of Criminal Evidence and Science, Colonel Eid Mohammed Thani Hareb, director of the General Directorate for Drug Control, Ibtisam Abdouly, head of the Department of Toxins in the General Department of Criminal Evidence and Criminology.

Colonel Al Mutawa said that Dubai Police's experts took steps after reports that marijuana was found in 'Medwakh' tobacco. It took four samples of the tobacco and a urine sample and checked the way it was tested at Garhoud Hospital. It was found the 'quick scan' method used in the hospital could lead to inaccurate results.

The tobacco and urine sample was also tested in Dubai Police's own forensic laboratory, Col. Al Mutawa said.

Al Mutawa said scientific studies confirm that the presence of drugs in high concentrations in the urine sample may lead to erroneous results when the 'quick scan' method is used.

He also said police checked several samples of 'Medwakh' tobacco that caused dizziness but were not found to contain any narcotic.

A similar study conducted by Dubai Police in 2013 had also concluded that the tobacco does not contain any narcotic substance.

Colonel Eid Mohammed Thani Hareb urged the media to check with the authorities before publishing such unconfirmed reports.
Ibtisam Abdouly, head of toxicology department at Dubai Police, .said the 'quick scan' method of checking to detect drugs is not reliable. Dubai Police has sensitive electronic devices to check substances for presence of narcotics.

EARLIER REPORT
Dubai Police to follow up on 'marijuana in Medwakh tobacco' report
The Dubai Police will follow up on the report of marijuana in 'Medwakh' tobacco, according to Colonel Eid Mohammed Thani Hareb of the General Directorate for Drug Control in Dubai Police.

"What has been published is revealed by a doctor in a private Dubai Hospital. There has been no complaint to us about it as yet."

He explained that Dubai Police, in such cases, relies on scientific medical evidence. It submits samples to police laboratories as well as to internationally accredited laboratories.

"Depending on the results determined by the internationally accredited laboratories, we take the necessary actions and refer case to competent authorities," Col. Eid said.

He stressed that the Dubai Police has began to follow up the details and will make contacts with all parties concerned, so as to ensure the safety of members of the community.
Dubai alert after marijuana traces found in 'medwakh' tobacco
Dubai authorities have gone on alert after medical reports showed samples of 'medwakh' tobacco (the traditional pipe) sold on the market contain marijuana, a press report said on Wednesday.

A doctor who examined some patients suffering from anxiety, sudden increase in heart beat and blood pressure discovered marijuana traces in their blood while tests on samples of the tobacco they had smoked showed they contained the drug.

"Tests on a large number of patients who smoke hookah and never touched drugs and those who were addicts in the past and are being treated showed marijuana traces in their blood and urine," said Dr Manal Al Fahham, a neurologist at Garhoud Hospital.

"Many of them showed symptoms of anxiety, depression and an increase in their blood pressure and heart beats. "Others showed symptoms of disorientation and hallucination.
"Tests showed all of them had somehow taken marijuana although they denied they smoke drugs," she told the Arabic language daily Emarat Al Youm.

She said nearly 40 per cent of the patients had drug traces in their blood, while samples of their urine and blood did not show any marijuana traces after they were asked to stop smoking hookah.

The paper quoted an official at the Dubai Economy Department (DED) as saying the department had launched a drive to gather samples of hookah tobacco from key shops in the emirate for more tests after receiving that report from Garhoud Hospital.
"The drive is continuing. We have inspected 10 major tobacco shops in different locations and collected samples.
"We will visit other shops to get more tobacco samples. This campaign will depend on the lab test results," said Mohammed Lootah, director of market control and consumer protection at DED.
Follow Emirates 24|7 on Google News.