Dubai Police rescue Emirati archaeologist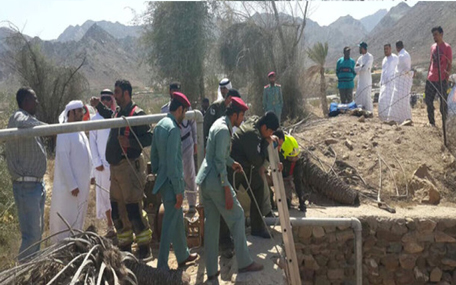 Dubai Police rescued a young Emirati who fell into a 30-meter deep well in Ajman.
Though injured with multiple injuries and fractures, the man helped himself by calling Dubai Police from his mobile from inside the well, reported 'Emarat Al Youm'.
Abu Al Fotooh Mahmoud Emara, member of the paramedics team who supervised the rescue operation, said the victim is an archaeologist and was touring Masfout area to study ancient wells.
The abandoned well that he fell into is believed to be almost 100 years old.
No sooner than Dubai Police received his call than they rushed to the site along with civil defence and medical teams.
The sand surrounding the well had caved in taking him deep down the well. Rescue teams used a stretcher to lift him up to safety within one hour. He suffered serious injuries to various parts of his body, including a fractured spine. But fortunately he did not lose consciousness and made an emergency call to Dubai Police, the report added.
Obaid Rashid, one of the paramedics of Hatta ambulance station, said the rescue team safely brought up the man from the well and administered first-aid before transferring him to hospital in Hatta where he underwent surgery and is receiving treatment.
Follow Emirates 24|7 on Google News.