Dubai Police resolves workers' dispute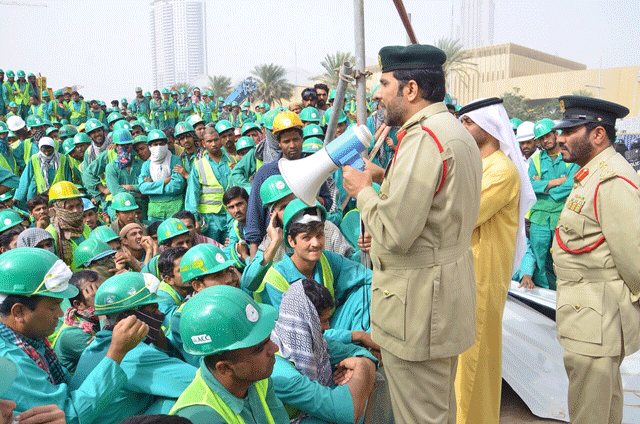 Dubai Police has successfully resolved a dispute between construction workers and their company. The workers gathered near The Boulevard on Tuesday, demanding bonuses from their employer.
Dubai Police coordinated with the employer to resolve the issue of the workers, affirming that their rights will be preserved and that their matter will be brought to the concerned, so as to take the required actions in accordance with the laws in this regard.
Speaking about the event, Major-General Khamis Mattar Al Mazeina, Commander-in-chief of Dubai Police, said that a group of labourers gathered to complain about belated extra working hours bonuses.
"Dubai Police interfered and managed to resolve the issue in less than an hour, after workers were promised that their demands will be carefully considered", Al Mazeina added.
He further affirmed that the UAE's labour laws are clear and enacted to protect the worker's rights, adding that the required procedures will be taken within the legal frameworks.
Al Mazeina also explained that Dubai Police's presence at the scene was just a normal precautionary measure to maintain order and ensure optimal level of public safety, including the workers, while the whole situation was settled in a very professional and civilised manner.
Arabian Construction Company Statement of March 11, 2015:

On March 10, 2015, a number of workers from our Fountain Views site in Dubai staged a public protest following their misunderstanding of discretionary incentives. Thanks to the efforts of the Dubai Police, the protest was resolved in a civilised and peaceful manner within an hour.

ACC takes both its responsibility as an employer and the rights of its employees very seriously. All of our workers are paid on time and in line with their contracts and Labour Laws. In addition, their wages are protected through a workers 'Wage Protection System' that sees their salaries transferred directly into their bank accounts.

The protest was related to some of our workers requesting the application of financial incentives which are measures that are occasionally offered depending on project and work requirements. These incentives are completely discretionary and are above and beyond the employees' contracted basic salary and overtime payments.

As work conditions do not currently require extra work incentives at our Fountain Views site, some of the site's workers have protested at the absence of such incentives, as their impact reduced their income. In fact our workers' salaries have not been reduced, their overtime work hours payments have not been reduced, and all of our workers' salary entitlements are always paid on time.

The situation is being managed in accordance with the UAE Labor laws and the workers employment contracts.
Follow Emirates 24|7 on Google News.