Dubai Pulse: 8 new cycling tracks, play areas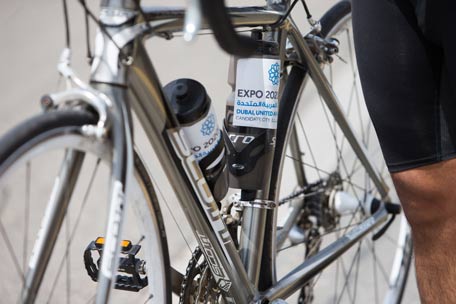 Dubai is in a fight to get fit and the Sports Council is actively initiating this movement that aims to have 45 per cent of the emirate's population physically active by 2015.
Chaired by Sheikh Hamdan bin Mohammad bin Rashid Al Maktoum, Crown Prince of Dubai, the Sports Council's 'Dubai Pulse' initiative has also spearheaded the drive for another eight cycling tracks in addition to the three already built, which will be ready by 2015.
Additionally, new playgrounds and pitches will be added to the "two to four playgrounds that already exist for the city youth," said the Secretary General of the Dubai Sports Council, Dr Ahmad Al Sharif.
Speaking about the drive to get Dubai residents from fat to fit, Al Sharif outlined the Dubai Pulse plan, which includes a two-step strategy.
He explains: "The first strategy we had was from 2007-2010, which was to highlight the problems and conduct a survey of exactly how many in Dubai are physically active.
"The launch of Dubai Pulse, a drive to get people moving through community based activities stemmed from this."
In 2009, the DSC statistics unveiled that 34.6 per cent of Dubai residents were physically active, with the numbers increasing to 36.4 per cent in 2011, 41.9 per cent in 2013 and the aim to hit 45 per cent in 2015.
Al Sharif continued: "The idea is to integrate sports with physical activity through several community based events and workshops, which include mall walking and beach yoga and other outdoor and indoor activities."
A new website is also in the works, which will highlight the community based activities that will be available in each neighbourhood.
Talking about the new cycling tracks in the works, Al Sharif said: "We have already opened a 74km cycling track, with another 18-km stretch through the residential areas in Jumeirah.
"But that isn't enough, which is why we are working closely with the Dubai Municipality and the Roads and Transport Authority to build eight new ones across the city and make Dubai a pedestrian friendly place, which will encourage people to eventually cycle to school and possibly their work places."
The existing 104km cycling tracks in various parts of the city is part of the Dubai Bicycle Master Plan, which aims to provide 850km of strategic bikeways in central business district areas and newly developed localities.
Follow Emirates 24|7 on Google News.