Dubai Rainforest, a new wedding destination in making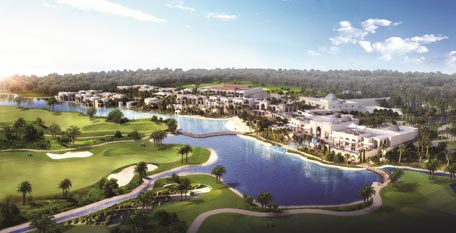 A tropical rainforest is coming up in Dubai's new 55 million square feet master development – Akoya Oxygen.
Damac Properties, the master developer, states it will recreate and complete "the tall, dense jungle environment" with many plants species before Dubai Expo 2020, as it aims to make the venue to be among the major tourist attractions in the emirate.
Built within an educational and cultural dome, the forest will also be used as a wedding venue, besides a zip wire allowing visitors to have a bird's eye view of the environment. It will also have a rainforest spa, rock pools and steam baths.
The Dubai Rainforest will be completed ahead of the World Expo 2020, and will become a key attraction within Dubai's integrated tourism plans.
"Dubai is known around the world for attracting the biggest and best and the Dubai Rainforest joins that list of unique attractions which will support the growth of the city," said Ziad El Chaar, Managing Director, Damac Properties.
The rainforest will be located near the Trump World Golf Clubhouse, part of an open-air walkway of high-end retail and entertainment offering.
Akoya Oxygen is the home of a 18-hole championship-standard golf course, which is being designed by Tiger Woods and will be managed by the Trump Organisation.
Deepest rainforests cover six per cent of the earth's surface with the Amazon representing over half of the planet's remaining rainforests. It comprises the largest and most biodiverse tract of rainforest in the world, with an estimated 390 billion individual trees divided into 16,000 species.
Emirates 24|7 reported in 2014 that Indigo Properties will be offering the tropical resort lifestyle in its Indigo Zen, a villa development in Dubai Golf City, Dubailand, which will cover 4.5 million square feet of land area dotted with verdant foliage with winding waterways.
Read:Indigo's Dubai villa project to replicate tropical resort

We have reported earlier that Dubai's Link Global Group is building Taaj Arabia – a 20-storey glass structure inspired by India's Taj Mahal – in Mughal Gardens development in Dubailand,which is aimed to become a global wedding destination.
Read:Taj Mahal replica in Dubai - Taaj Arabia - to open in 2017
Follow Emirates 24|7 on Google News.