Dubai Resident Alert: 5 begging scams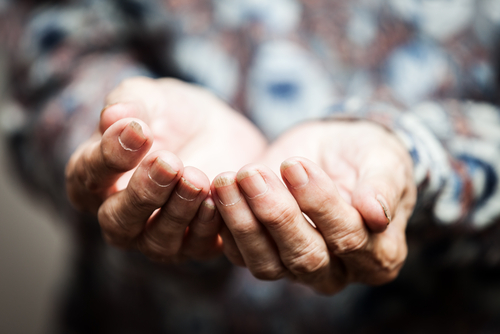 Earlier this year, Dubai Municipality nabbed a beggar who was making as much as Dh270,000 per month; that's close to Dh9,000 every day.
At the time, Dubai Municipality had stated some of the beggars had entered the country on business or tourist visas.
As Dubai Police cracks down on its Ramadan anti-begging campaign, the authorities have already rounded up 35 people, seven of whom were women and two were children.
Authorities are urging all citizens and residents not to be sympathetic with beggars and instead donate money to charities.
Here are some of the common scams to recognise:
The doorknockers
They sometimes come mere minutes before iftar time, knocking on doors with a fraudulent medical letter or some such fake document in hand.
Razia Khan, a resident of Bur Dubai, says she sees repeated occurrences in such incidents during Ramadan.
"It usually happens around iftar time, right when before breaking the fast or in the midst of our meal," says Khan. "Over the years I have recognised the pattern: it would either be a man with a laminated medical letter stating his child has cancer and needs money for surgery; or it will be a woman attempting to raise money for a poor school in dire need of supplies."
Khan says the timing is key, explaining further: "We are tired, thirsty and probably minutes away from breaking our fast. So more often than not, people would give them a donation, rather than indulge in a long conversation to get more details."
The mother of two says whenever this happens, she doesn't hesitate in reporting the incident to the building security guard or calling the police helpline number.
"There are young children who play in the building, downstairs; their safety is paramount," she says.
The sick child
One of the 35 people arrested by Dubai Police at the start of the Ramadan anti-begging campaign this year included two children who were pushed into begging.
Residents of Deira and Karama have reported several incidents of seeing women seated on the pavement with a 'sick child', begging for alms.
Muneer Rashid, a Karama resident said: "Call them out and offer them medical assistance for their sick child and you will see them panic or snap at you in turn."
On other occasions, the story changes to that of a father of two young boys, one passed out on his shoulder, while the other is pleading for food.
The out-of-towners
This scam is not limited to Ramadan. The car license plates may change, along with the neighbouring countries, but the story remains the same.
"It usually is a car from one of the neighbouring countries," says Marina-resident Alexander Garcia. "A family of four, with children in tow, will pull up next to you in the carpark and ask you for money to fill up the petrol tank.
"I fell for it the first time, only to have my mates warn me of the regular scam. Since, I've been accosted a few times and I usually threaten them with the cops."
The person with disabilities
Over the years, the begging scam has become more creative, with residents reporting the use of props and make-up to show disability and fake blood.
Ali Maqsood Bashir, a Karama resident, said: "Last year, I was returning from the mosque during Ramadan and came across a beggar, a disabled person who had lost one of his limbs. Because Zakat is an integral part of our religion, I didn't think twice before passing him what cash I had.
"I returned the next day to find him to help him further, but he was gone. Imagine my surprise when a few days later, I saw the same man crossing the street with all his limbs intact! I called out to him, but as soon as he saw me, he ran away."
The pilgrims
Similar to the 'scamming cash for petrol' story, residents have reported of being approached in cars by families claiming they are unable to perform Hajj due to lack of funds.
Ahmed Al Shebani said: "I do what I can and give them some spare change for a holy cause. But after reading the alerts of such scams by Dubai Police, I usually send them packing."
What to do when you spot a beggar: Dubai Police has asked the public to report beggars to 050 210 6969 or the toll-free number 800 – CID (800 243), or via the department official email: cid@dubaipolice.gov.ae
Follow Emirates 24|7 on Google News.