Dubai's Discovery Gardens gets 'Big Brother' security blanket... but residents fear the bill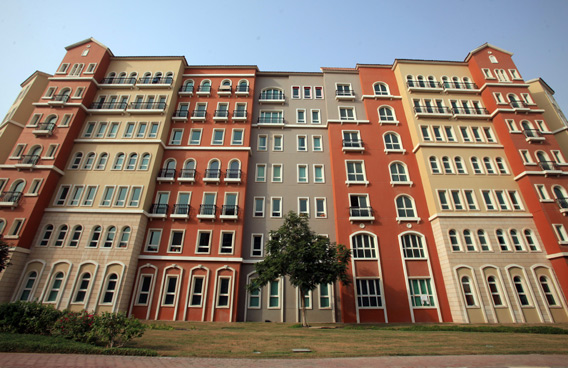 The free access to buildings across Discovery Gardens will soon be closed for strangers as each of the 291 buildings in the master community will have close circuit televisions (CCTVs) and access control systems on main doors.
In a notice, Nakheel Owners' Association Management says: "In the interest of upholding the property value of individual units and enhancing security and safety to the community, the Owners' Association Management will be installing the following systems with work commencing from October 30: CCTV monitoring system and door access control system."
The letter adds that various cameras will be installed in common areas with 24|7 recording and access proximity card controls will be installed on main access doors.
"Once installation is complete, you will be notified to apply and collect access cards. Kindly note that without the access cards, you will not be able to access the building."
In January, Emirates 24|7 reported that Nakheel had issued a tender seeking supply, installation, programming and maintenance of card reading access control system and CCTV system at Discovery Gardens.
Although residents have welcomed the move, apartment owners, particularly those who have rented out their units, are concerned about the cost. It is not clear yet on how much will apartment owners have to pay.
Purvi Saxsena, who has been living in Discovery Gardens for the past three years, approves of the new security initiative.
"It's so good to see the doors of our building will being shut for strangers. I did hear that CCTVs and access card systems have been installed in some buildings. I hope they finish the work in our building soon."
Marie Jose, another resident, adds: "I am tired of getting those massage parlour and home cleaning cards to strangers knocking on my door every day. I do fear opening the door as our lobbies are quite deserted. Though I will continue to remain vigilant, but with the CCTVs and access card systems in place our building will be more secure."
A Gorbachev, who owns three apartments in Discovery Gardens, says: "There is a notice put up in the lobbies about the new security measures, but we haven't got any information from Nakheel on the cost. It is good for community, but I hope charges are reasonable and not exorbitant."
Discovery Gardens consists of six themed communities inspired by garden living, and includes Zen, Mediterranean, Contemporary, Mogul, Mesoamerican and Cactus courtyard gardens. The development spans over 26 million square foot plot and has 291 buildings.
Follow Emirates 24|7 on Google News.