Dubai's new beach canteens: Serving hot foods and flavours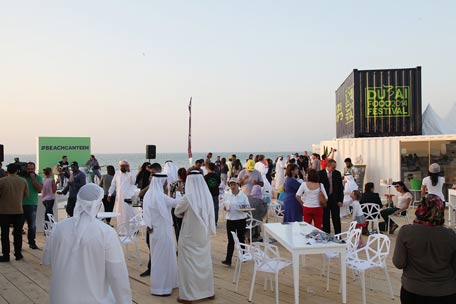 For the first time ever, Dubai residents can embark on a unique gastronomic journey as they get to savour mouth-watering delicacies from 16 top restaurants by the beach-side.
Pitted by the Dubai Festivals and Retail Establishment (DFRE) and Dubai Department of Tourism and Commerce Marketing (DTCM), the beach canteen makes its debut as part of the first edition of Dubai Food Festival and will run until March 8.
It will be hosted at three popular beach spots – Jumeirah 1 Open Beach, Kite Beach and Sunset Beach, and will serve up dishes from around the world, namely Italian, Egyptian, Mexican and Thai.
And, the sporty kinds can also indulge in a game of table tennis when not tucking in finger-licking-good fare.
Talking to Emirates24|7, Laila Mohammad Suhail, CEO of DFRE, said: "The beach canteen is just one of many exciting gastronomic events that aim to create awareness among tourists about the interesting diversity of foods and flavours in our city."
"Dubai is already known as a hub for shopping and lifestyle, but we also want to tell the tourists about the amazing gastronomy experience that they can have in Dubai when they visit."
Suhail is confident that the Dubai Food Festival will position Dubai impressively on the global gastronomic map.
"This is only the first edition of the Food Festival, but I am sure, based on our 20 years of experience in organising world-class festivals, that in the coming editions we will have more and more visitors specifically for this festival and it will grow bigger to help position Dubai as a main destination on the global gastronomic map," she added.
The idea for the beach canteen, she added, emerged from the need to create a new experience.
"Since it is our first Food Festival, we had to be creative and come up with ideas that were never tried before. We had tried a similar idea during the last edition of our Dubai Shopping festival, whereby we created a market out of recycled ship containers and called it Market OTB, and it was a huge hit with the public. So, we thought why not create the first "pop-up" restaurant on the beaches of Dubai, hence, the Beach Canteen."
The beach canteen will feature 16 restaurants. In fact, the decision to choose from over 5,400 restaurants in Dubai was a tough decision to make, Suhail admits.
"What we tried to do is to ensure diversity to reflect one of the main messages of Dubai Food Festival."
What's cooking?
Fare to choose from at Jumeirah 1 Open Beach's canteen will include light bites and gourmet coffee at Cafe2Go, French crepes at La Creparis, maneesh with a twist at Lebaneesh and delicious bread buns at Roti Mum Café.
On Kite Beach, the canteen atmosphere will be energetic and creative with DJs, graffiti art, table tennis, and free yoga on offer. Kite Beach dining options will see a diverse range of choices like international cuisine from Bikers Café, gourmet coffee and light fare from Coffeol, shawarma from Extreme Shawarma, Italian cuisine from Giolitti, traditional Egyptian from Hadoota Masreya, modern Mexican from Loca, healthy salads from Saladicious, American favourites from Power Burger, and fresh seafood from Seaview.
At the Sunset beach, the atmosphere will be inspired by the region with Arabic music, lighting and traditional and luxury décor. Upholding the ambiance will be Emirati selections from Barjeel, sushi and Japanese grill from Kyo Café, French cuisine from La Provence, French pastries and fare from Ines Paris and fresh coffee from Raw Coffee.
Follow Emirates 24|7 on Google News.