Dubai's transport system on track for smart future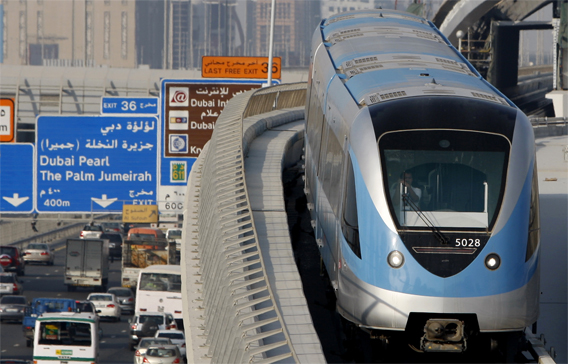 Dubai's transport system is on track for a smart future where 25 per cent of all transportation trips will be smart or driverless by 2030 and 50 per cent of private cars will have self-driving features within the next 10 years, according to the head of Dubai's Roads and Transport Authority (RTA).
Mattar Al Tayer, Director-General and Chairman of the Board of Executive Directors of the RTA, today said he was "optimistic for the future of transportation but questions and challenges remain."
The emirate already uses new technology to address the opportunities and challenges facing the transportation sector, said Al Tayer in a wide-ranging speech at the Global Manufacturing and Industrialisation Summit (GMIS 2017), taking place at the Paris-Sorbonne University Abu Dhabi.
The official was setting out the vision of the RTA in transforming Dubai based on the future trends of shared mobility, driverless transport, innovative modes, connectivity and sustainability.
This is being driven by factors such as, increased safety, the reduction of travel times and protection of the environment. He stated that within ten years, self-driving will be widely deployed, but more innovative concepts, such as the Hyperloop and flying cars, will take longer to be deployed.
On the emirate's vision, Al Tayer said, "Dubai is aspiring to play a leading role in this line of the industry by 2030 through a comprehensive smart self-driving mobility strategy with clear-cut targets."
Thanks to the far-sighted vision of His Highness Sheikh Mohammed bin Rashid Al Maktoum, Vice-President and Prime Minister of the UAE and Ruler of Dubai, and the close follow-up of H.H. Sheikh Hamdan bin Mohammed bin Rashid Al Maktoum, Dubai Crown Prince, a clear target was set, he noted.
Dubai Metro boasts of being the longest driverless metro network in the world, and now lifts more than 650,000 riders per day. Phase II of the Dubai Tram, which is fitted with some driverless technologies, will witness the deployment of fully automated self-driving trams, Al Tayer noted.
The inaugural Global Manufacturing and Industrialisation Summit, which opened on 27th March and will run to 30th March, is the world's first global gathering for the manufacturing community, bringing together decision-making leaders from governments, businesses and civil society organisations to shape a vision for the sector's future.
Follow Emirates 24|7 on Google News.