Dubai's 'Your Child in Gold': Indians biggest losers - take gold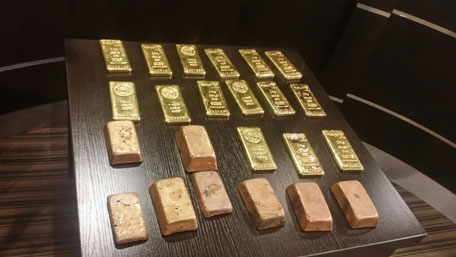 Nearly six months after the 'Your Child in Gold' campaign kicked off in July 2014, Dubai Municipality has announced that the big losers of the weight-loss campaign will finally be rewarded on March 15.

Indians top the list of winners in the 'Your Weight in Gold' slimming contest, with 5,616 set to take home gold rewards.
Filipinos come in second with 1,423 and Pakistan is third with 387. Chinese are fourth with 225 of their nationals winning gold, and Egyptians at number five with 204.
The UAE stood sixth with 146 winners, and 985 were slotted in "other countries".

The prize distribution ceremony will be held at Zabeel Park from 12noon onwards, announced Khalid Ali Bin Zayed, assistant director general of Dubai Municipality for the international affairs and partnership.

Contestants will be informed via e-mail.

This year, 7,350 winners who sweated it out to go from flab to fit will be rewarded with a combined 40kg of gold, worth nearly Dh6 million.

At first, the civic body had planned to distribute the gold rewards in December.

At the time, Waleed Al Shaibani, Dubai Municipality Club's manager and chief coordinator of the weight-loss campaign, told Emirates 24|7 that the delay in the ceremony was due to the "sheer number of winners makes the planning and execution of the grand finale more difficult".

"That's why there is a delay in announcing the date. We are still in the process of making all the arrangements and finding out ways to accommodate 7,350 winners and their families. We decided to choose December because the weather will be perfect for outdoor functions," said Waleed.

Last year, Dubai Municipality rewarded 2,648 winners of 'Your Weight in Gold' campaign with 16.823kg of gold bullion worth Dh2.6 million.

The campaign, which ran from July 15 to September 15, received excellent response, with 27,0703 residents signing up.

According to Zayed, 3,929 contestants have lost less than 5 kg, while 2,829 people lost between 5kg and 10kgs. He added 568 persons lost 10kg to 20kg, and 27 people lost 20kg to 30kg and 4 people have lost more than 30kg.

Last year, Syrian architect Ahmad Ibrahim Al Shiekh emerged as the winner after shedding 26kg. The name of the big winner for this year is still under wraps.

Dr. Najiba Al Shezawi, medical-in-charge of the initiative, added, "The winners include over 200 children below 13 years of age."

This year, the campaign was aimed at families, with their gold reward doubled for joint weight-loss. For every kilo lost over the 2kg mark, families get 2 grams of gold, while individuals get 1 gram of gold for every kilo lost in weight.
Follow Emirates 24|7 on Google News.