Dubai Safa Park organic market attracts 10,000 visitors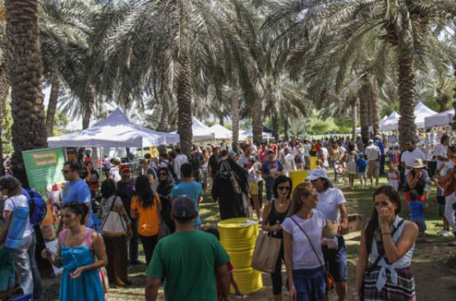 The organic market organized by Dubai Municipality in coordination with RIPE Fresh in Safa Park which was opened in December 2013 attracted around 10,000 visitors during the first week of opening, while the total number of visitors of Safa Park reached 1100000 in 2013.
The organization of organic market is aimed at achieving civic body's environmental, health and social goals creating an excellent city that provides essence of success and comfort of sustainable living.
Eng. Taleb Abdul Karim Julfar, Director of Public Parks and Horticulture Department said the market operates in every Friday in the winter season until June 2014, where all types of organic products such as eggs, jam, vegetables, fruits, honey, cheeses, craft products such as jewelry, clothing and paintings are sold.
"All these products are from local farms licensed and accredited by the Ministry of Environment and Water. A total of 70 merchants participated in the market," Julfar said.
"The department organizes such initiatives and other environmental, health and social events in parks to raise environmental and health awareness among the visitors," he said.
The public can visit the market in Safa Park - Gate No. 5 from 9:00 AM to 2:00 PM and purchase organic products.
"The residents will find items that can't be sourced in the markets and the prices will be maintained at a rate lower than in big supermarkets. You can also find unique arts and crafts like jewellery, paintings, and bags," a RIPE representative said.
"While the adults looking for healthy products, children can entertain themselves through a host of activities," he said.
"The organic market has become a well desired destination for health-conscious individuals and families who want to spend a fun day out with friends and families," he added.
Follow Emirates 24|7 on Google News.