Dubai Science Park and Sanofi announce partnership to tackle rare diseases in Middle East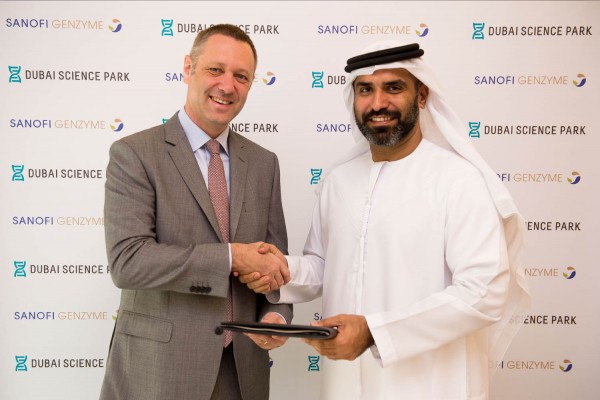 Dubai Science Park (DSP), a member of TECOM Group, today signed a Memorandum of Understanding (MoU) with Sanofi, a global healthcare leader that discovers, develops and distributes therapeutic solutions focused on patients' needs.
The MoU, signed the day before the world marks Rare Disease Day, will bring DSP and Sanofi together to cooperate, collaborate, and help shape the environment of rare diseases in the Middle East region.
According to research by Rare Disease UK, an organisation dedicated to raising awareness of rare diseases, 1 in 17 people, or 7 percent of the population, will be affected by a rare disease at some point in their lives. This equates to approximately 550,000 people in the UAE and over 23 million people across the Arab world. Approximately 75 percent of the people affected are children, 30 percent of whom die before the age of five which underlines the importance of addressing such diseases and improving the quality of healthcare patients receive.
In addition to leveraging awareness of rare diseases and their impact on individuals in the UAE, the MoU between DSP and Sanofi will also look to establish communication channels for patient associations and scientific societies, and develop knowledge and technical capabilities within the industry.
Commenting on the signing, Marwan Abdulaziz, Executive Director, Dubai Science Park, said, "Our MoU with Sanofi underscores our ambition to drive healthcare solutions that benefit the people of the region. At DSP, we offer our partners the tools and space necessary to bring latest concepts to market and undertake R&D, catalysing innovations and creativity for the people of the region. With rare diseases impacting the lives of numerous UAE citizens as well as people across the Middle East, Sanofi's in-depth experience in this field will help us to develop solutions together, making for a healthier region."
Jean Paul Scheuer, Country Chair and General Manager of Sanofi Gulf said, "Sanofi has a long-standing commitment to addressing the unmet needs of patients with rare diseases such as Fabry disease, Gaucher disease, MPS I and Pompe disease. We are honoured to work in collaboration with Dubai Science Park, as we recognise the value of cooperating together, to help shape a positive future for Rare Diseases in UAE and the region. We are dedicated to empowering the lives of people through research and development that advances the understanding of these disorders and supports the people we serve every day."
Follow Emirates 24|7 on Google News.