Dubai Shopping Festival tale: An Indian man's charity hits jackpot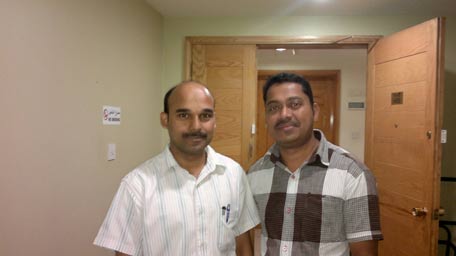 Several people have benefitted from the annual Dubai Shopping Festival.
This year was no different and each winner has a story to tell. Interestingly, two Indians who hit the jackpot last month, claim to have proven lucky for one another and have bonded over the prize. Their camaraderie is one to be retold.
Speaking to Emirates24|7, an excited Jaffar Koovupurathu, 37, shared the sequence of events that led to the big day.
He said that he had purchased a gold bangle worth Dh2,000 for his wife and, in turn, received four raffle coupons.
As he was heading to the Holy city of Makkah to perform Umrah, he said that he "decided to give away a coupon in charity".
Jaffar said, "I am a customer of Al Halabcha Cargo Company in the Owais Tower, Deira. I go there regularly to collect cheques send by our Iraqi clients. There I befriended Noorudeen. But we would just wish each other every time we met.
"That day, I decided to give him one gold raffle coupon. He was not interested because he had tried his luck several times in the past and had never won. But then, I gave him one more, and asked him to fill up the two coupons."
However, Noorudeen was unmoved. "I persuaded him to fill the coupons up and took them myself and dropped them in the raffle draw box outside the office. Thereafter, I just forgot about it and proceeded to perform umrah," Jaffar recollected.
On January 22, Noorudeen, won one kilogramme of gold.
Jaffar was informed of his jackpot win while he was in Makkah. He couldn't believe his ears. He returned to Dubai on February 2 and claimed the prize the following day with Noorudeen.
Jaffar said, "Noorudeen and his family believe God Almighty sent me to him with the raffle coupons. But I feel I am sharing his luck because none of the coupons bearing my name was picked up.
"In fact, we both are feeling great and there is no dispute about sharing the prize money equally. We consider it God's blessings to both of us who almost live a similar lifestyle."
Both of them earn less than Dh4,500 per month and were dreaming of building a home in India. While, Noorudeen will use the money to complete the house he has started constructing, Jaffar will also begin on his dream project soon.
Jaffar now plans to bring his wife Seenath, a school teacher, and their two children, 11-year-old daughter Anoodh and 5-year-old son Amen, to Dubai. "I hope to take my family for Umrah," he added.
In fact, Noorudeen has found a noble way to thank his bald friend in bringing him luck. "As a gesture of gratitude, I will pay for Jaffer's hair fixing," said an elated Noorudeen.
Both hail from Kerala in India.
Follow Emirates 24|7 on Google News.