Dubai Smart Taxis hit roads with new features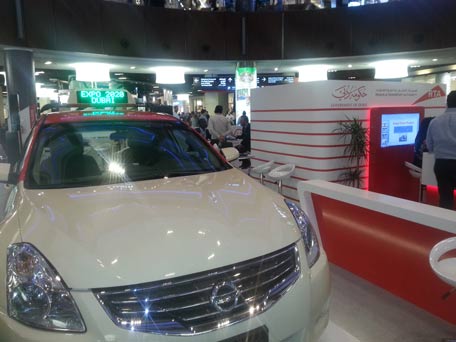 If you spot a taxi carrying a somewhat unfamiliar message on its rooftop, you have just encountered Dubai's Smart Taxi, equipped with the smart light, at the very least.
The first 500 taxi vehicles have been equipped with the new rooftop light, first presented at Gitex 2013 by the Road and Transport Authority (RTA) and will eventually be seen on all taxis in Dubai.
The smart light informs potential customers whether the taxi is booked, available, occupied or out of service.
"Previously, it was not possible for customers to see the status of a taxi. Although a taxi might be on its way to a customer, a person on the street might feel that the taxi passed him without a reason.
"We received many complaints about taxis not stopping when flagged down.
"With the smart light it is visible whether the taxi is free. We hope the number of complaints of this nature will decrease," explained Ahmed Mahboob, Director of Customer Service at the RTA stand that has been set up on the occasion of Customer Service Week in Dubai Mall.
At the stand, the new taxi is presented to make people aware of the new features. It is not only the smart light that needs to be introduced.
The smart screen will be added to the taxi too this week, says a representative at the stand.
Today, the first 20 taxis will do their rounds equipped with a smart device added to the back of the drivers' seat. On this device, customers will be able to check their flight times, read the news, or check hotels for resevations.
In taxis that are booked, a second device is placed on the back of the front passenger's seat. On this device, customers can see the estimated taxi fare, time to destination and other information.
Although the 20 taxis are the test group among the larger fleet, there should be 100 such taxis within the next two months, with the focus on the fleet servicing the airport.
Finally, smart payment will also be introduced within the weeks to come. Beside payment with cash money, the customer will be able to pay by credit card, Nol card and if the NFC software is installed, the smart phone too may be used.
The smart taxi was fully presented at Gitex 2013.
The smart features will gradually be installed in all 3,800 taxis of the Dubai fleet over the course of this year.
Follow Emirates 24|7 on Google News.