Dubai to auction 300 number plates online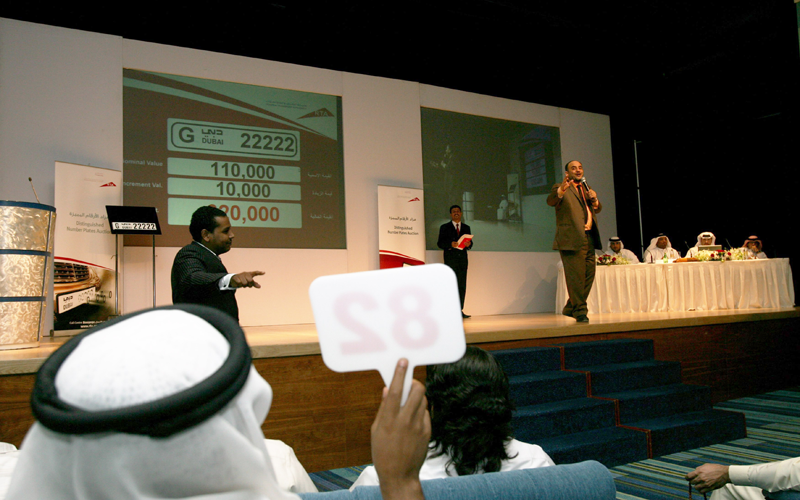 The Licensing Agency at Dubai's Roads & Transport Authority (RTA) is set to offer around 300 distinguished licensing numbers in the 17th online plates auction headed by A, B, and C coded plates.
Registration for the auction will open on January 22 and the bidding process will start on Tuesday, January 29, and last for three days.
Mohammed Abdul-Kareem Nimaat, Director of Vehicle Licensing at RTA Licensing Agency, said: "Online auctions are highly attractive to various community segments, as they avail them the liberty of selecting their fancied numbers in a hassle-free atmosphere. The successes of previous online auctions contributed to enhancing the e-services offered by Vehicles Licensing Department under its annual plan with the aim of improving the quality of customer service experience and accordingly achieving higher customers' satisfaction rating.
"Registration in the Auction is open through different communication channels including RTA portal (www.rta.ae), or visiting any of RTA Customer Service Centres, where each participant is required to have a traffic file and deposit a sum of Dh5,000 which is refundable in case no successful bid is made.
"The payment can be made either through RTA portal using a credit card, a cheque made to the amount of the deposit handed to the approved Service Center, or communicating with Customers Service Team through dialing the toll-free number of RTA Call Center 8009090.
"The online auction promises to be highly popular among community members as it will see the offering of a distinguished galaxy of 4 and 5-digit plates," said the Director of Vehicles Licensing in a closing remark.
Follow Emirates 24|7 on Google News.