Dubai to be world's friendliest for disabled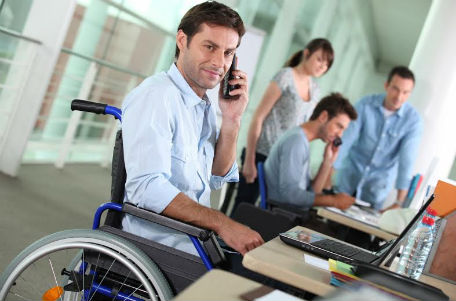 Government bodies in Dubai are stepping into a new era of making Dubai the world's friendliest place for the disabled by increasing their services aimed at catering to the needs of their customers with disabilities.
According to government officials, the new initiatives include Smart Gate Special Counters at the airports, guidelines in Braille, government staff trained in sign language to support those with hearing and speech impairment, ease of wheelchair access in buildings, parks, transport facilities, government offices and other places and parking facilities close to the centres.
The UAE and Dubai have been taking numerous initiatives toward enhancing the lives of people with disabilities and integrating them into the society.
The 'My community... a city for everyone' initiative aims at empowering the disabled within an overarching framework that contributes to enhancing the effectiveness of existing projects and initiatives, and developing more initiatives of this sort in accordance with a vision that aims to maximise the participation and integration of individuals with disabilities in the community, and to create new opportunities for them.
Committed to bringing the Vision 2020 to reality, the departments are actively using smart technologies to make transactional procedures easily accessible for the disabled, providing job opportunities and also introducing facilities aimed at integrating those with disabilities into the society.

Special team at DED
Sami Al Qamzi, Director General, Department of Economic Development (DED) in Dubai, said: "We have formed a special team to make DED and its institutions disabled-friendly entities in order to ensure that the design and facilities inside the buildings allow people having disabilities to use the services and move around with ease. We also provide an environment that encourages innovation and creativity among our employees having disabilities, alongwith developing customer services and offering smart e-services for the disabled such as websites that can be used by those who are visually impaired and smart channels to serve customers round the clock."
Al Qamzi noted that DED's frontline staff is well equipped to deal with persons with disabilities, and have been trained in sign-language and trained staff assists people having disabilities at all customer service centers.
Al Qamzi added: "DED is working on enhancing work opportunities, career growth, summer and personal training opportunities to ensure higher inclusion, flexible work hours for those with disabilities, give promotions and empower them in the area of their functioning without any discrimination."

Dubai Health Authority
Hamid Mohamed Al Qatami, Chairman and Director General of the Dubai Health Authority (DHA), said Dubai has proved itself to be a successful universal model in dealing with people with disabilities. It also completed a set of regulations that ensure full support for people with disabilities, integrating them in the society and areas where they can be gainfully employed and contribute effectively in the development and prosperity of Dubai.
Al Qatami said: "The DHA will spare no effort in providing the highest level of medical services for people with disabilities and the Authority's strategy includes a set of advanced programs that ensures health and happiness for people with disabilities including programmes for early detection of disability, child health programs and specialised services for different types of disabilities."
The DHA offers diagnosis and early intervention services and has opened a specialized center in the Al Jalila Hospital, which offers a bouquet of smart applications and services for the disabled.
He added that the Authority is working on a policy of inclusion, to ensure the rights of persons with disabilities, and giving them a priority in accessing various medical services.
Meanwhile Dubai Municipality, which has been actively working towards providing facilities such as floating wheel chairs at beach areas, easy access to public areas and its service centres, will highlight community initiatives and the facilities it has introduced toward attaining the Vision 2020 at AccessAbilities Expo as well.
DHA and Dubai Municipality are amongst a number of Dubai Government Departments which will showcase their initiatives and services for the disabled during AccessAbilities Expo 2016, the Middle East's largest expo for individuals with disabilities, taking place from February 9 to 11, 2016, at the Dubai International Convention and Exhibition Centre. Other Departments showcasing the latest services and technologies include Dubai Electricity and Water Authority, Community Development Authority, Department of Economic Development, Dubai Customs, GDRFA and Roads and Transport Authority.

Dubai Municipality
Hussain Nasser Lootah, Director General of Dubai Municipality, said the Dubai Municipality is keen to meet the government's vision in supporting people with disabilities and providing them the necessities of a decent life in line with the 'My Community... a City for Everyone' initiative to transform Dubai into a disabled friendly city by 2020.
"Dubai Municipality is on the forefront in supporting individuals with disabilities. Our initiatives go beyond our services and include the community."

Roads and Transport Authority
Mattar Al Tayer, Director General and Chairman of the Board of Executive Directors of the Roads and Transport Authority (RTA), confirmed the authority's keenness on providing all projects and facilities and mass transport services to be friendly to persons with disabilities as a commitment by the authority to implement the terms of the Federal Law concerning the Rights of people with disabilities, according the law, "It's necessary for roads, public vehicles, land and sea transportation to have the technical specifications required for the use and need of the disabled."
Al Tayer added: "RTA gives special attention to people having disabilities and all means of mass transportation from the metro, buses to water/marine transport and taxis have been designed to meet the needs of the disabled. The Dubai Metro and Dubai Tram offer services and facilities for people with different types of disabilities, stations and metro carriages have audio and visual announcements for guidance, notifications and display of information for people with hearing and visual impairment, floor signs that facilitate the movement of people with visual disabilities where it keeps track of movements that guide them to the gates or to their designated locations in the carriages, also providing elevators and escalators with audio and light-customised systems for people with visual impairment and hearing disabilities. In public buses, the bus's hydraulic system enables the driver to tilt the bus so it reduces the altitude/rise with the pavement in order to enable the elderly, sick, or disabled passenger to get on the bus easily. The middle door of the bus is provided with a crossing ramp which serves as a bridge between the sidewalk and the floor of the bus to enable easy wheelchair access without lifting it. Water bus, water taxi and Dubai ferry too have seats dedicated for people with disabilities, while the Dubai Taxi Corporation has allocated seven vehicles equipped to serve people with disabilities. These vehicles have hydraulic lifting that can lift high weights and the drivers are trained to deal with the disabled.
The RTA also provides free services for the elderly and disabled card holders (Sanad), exempting disabled from paying tariffs when using public transportation by giving them free NOL Cards which allows them to use all transportation facilities which include Dubai Metro, buses, water bus, as well as being exempted from paying the Salik tariff, fees of registration and renewal of one vehicle. Other benefits include a 50 per cent discount on the tariff of driver's license services, in addition to exempting the disabled from paid parking tariffs with the allocation of free parking spaces for the disabled in various critical locations.\

Dubai Electricity and Water Authority
Saeed Mohammed Al Tayer, Managing Director and Chairman of the Dubai Electricity and Water Authority (Dewa), said: "Dewa has launched the 'Ashir' service, a live video chat service using sign language that enables people with disabilities to communicate directly with Dewa's call centre staff. This service is available on Dewa's smart app on iOS and Android, which offers over 150 services and features round the clock. In addition, we have trained staff to use sign language to communicate with people having hearing and speech disabilities. Dewa also supports and sponsors numerous social initiatives including Sanad cards for the disabled in Dubai," he said.

General Directorate of Residency and Foreigners Affairs
The General Directorate of Residency and Foreigners Affairs (GDRFA) in Dubai has introduced Smart Gate Special Counter for the disabled to enhance the airport experience.
Major General Mohammed Ahmed Al Marri, Director General, General Directorate of Residency and Foreigners Affairs (GDRFA) in Dubai, said the department is committed to making the lives of individuals with special needs and disabilities comfortable by ensuring easy and quick access to services.
"We have introduced the Smart Gate Special Needs counter, which allows any passenger on a wheel chair a smooth access and a convenient airport experience. GDRFA Dubai offer jobs to special needs individuals, trains its staff to learn sign language and provide many smart services for those with special needs and disabilities so that they do not have to visit GDRFA centres and can conduct transactions online," he said.

Community Development Authority
Talking about the initiatives taken by the Community Development Authority, Khaled Al Kamda, Director-General, CDA, said: "CDA is a member of the higher committee for the protection of the rights of people with disabilities in the Emirate of Dubai. We are not only responsible for empowering people with disabilities and protecting them but also to create eligible environment to empower them and allow them to access their rights in working and enjoying social activities. We will present our latest initiatives for people with disabilities such as Sanad Rely centre, Sanad Card and SanadRV during AccessAbilities Expo 2016."
He added that CDA will utilise the AccessAbilities Expo platform to find out about the latest solutions, and the finest success stories in this regard. "We are directly involved in improving the quality of lives of this segment in addition to other vulnerable groups, and we need to benefit from the best examples that could help our goal."

Dubai Customs
Ahmed Mahboob Musabih, Director of Dubai Customs, said: "The department provides many services for the disabled, beginning with its headquarters which is disability friendly, with ease of accessibility to the building, along with dedicated parking slots near the main entrance."
The Dubai Customs also has employees with disabilities in different departments.
"Passengers who use the Dubai Airports have been taken into consideration too, where the department made dedicated tracks for people with disabilities in Customs Outlets in order to ease their movement."
"The Dubai Customs exempts goods and materials used by people with disabilities from customs duties in accordance with the Law," he said.
He said the Dubai Customs announced last year exemption of eight goods and materials catering to people with disabilities, such as educational, medical tools, machinery, wheelchairs that have an engine or another mechanism, along with cars made specially to be driven by people with physical disabilities, crutches, devices for the hearing, speech and visually impaired.
Follow Emirates 24|7 on Google News.