Dubai to set up world's largest waste recycling plant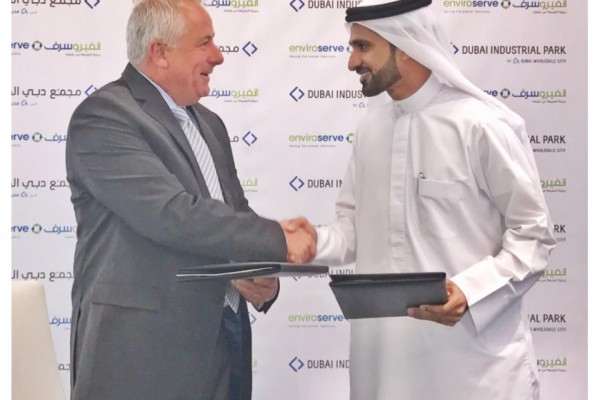 Enviroserve UAE, which delivers niche waste and environmental solutions, has signed an agreement with Dubai Wholesale City for the construction of a 228,000 sq. ft. electronics and specialised waste recycling plant at Dubai Industrial Park, the dedicated industrial hub within Dubai Wholesale City.
The signatories included Abdulla Belhoul, Chief Executive Officer of Dubai Wholesale City, and Stuart Fleming, Group CEO of Enviroserve UAE.
Backed by the Swiss Government Export Finance Agency, the Dh120 million project represents one of the largest foreign direct investments in the field of environmental management in the UAE. The facility will serve as the region's largest centre of expertise for electronic waste management in the Middle East.
The first plant-of-its-kind facility will recycle the entire range of end-of-life electrical and electronic equipment ranging from consumer and industrial to commercial and military appliances, including air conditioners, batteries, IT equipment, household appliances, military avionics and mobile phones. In addition, it will recycle specialised waste material such as aerosol cans and lightbulbs, and become the only dedicated refrigerant reclaim facility in the UAE.
Expected to commence operations by the end of the year, Phase 1 of the plant will comprise state-of-the-art equipment to process 39,000 tons of electronic waste annually.
Speaking at the signing ceremony, Abdulla Belhoul said, "At Dubai Industrial Park, we strongly support environment-friendly solutions as part of our strategic commitment to promoting sustainable manufacturing and socially responsible practices. With a growing number of business partners setting up operations in our integrated mega hub, this innovative recycling facility will add significant value to advancing sustainable and organic development in our community."
He added, "Our partnership with Enviroserve UAE demonstrates how our world-class infrastructure and allied services help our clients seamlessly adapt to new market conditions and opportunities. We are confident the project will spearhead the development of a sustainable electronic waste management market in the region."
Stuart Fleming said, "We are delighted to join hands with Dubai Industrial Park to advance waste management solutions within this mega hub. Our new integrated recycling plant will be a true game-changer in electronic and specialised waste recycling for Dubai and the wider Middle East region. Utilising best-in-class technology, the iconic facility will elevate the sustainability movement in the region."
Enviroserve UAE offers sustainable solutions that strictly adhere to UAE regulations, international standards established by the United Nations Environment Programme, and the Waste of Electrical and Electronic Equipment Directive (WEEE Directive 2002/95/EC). Accredited to ISO 14001 and OHSAS 18001 standards, Enviroserve's plant processes have earned the stamp of approval from internationally recognised auditing companies.
Enviroserve's decision to set up a state-of-the-art recycling facility at Dubai Wholesale City comes at a time when a UN-sponsored research project has indicated that the average UAE resident produces 17.2 kilogrammes of e-waste each year. Amounting to nearly 600,000 tons in 2015, e-waste generation in the GCC region is expected to reach 900,000 tons in 2020.
Follow Emirates 24|7 on Google News.