Dubai Traffic Alert: Airport Road diversion from today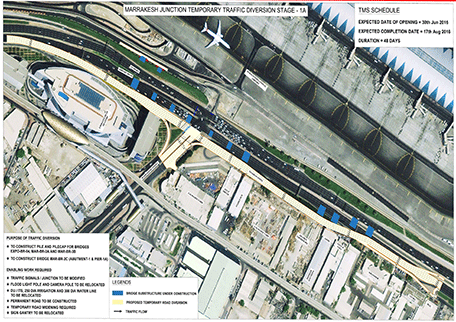 The Roads and Transport Authority (RTA) will open the main traffic diversion of the Dubai Airport Road on Thursday, June 30.
The diversion is extending from the intersection of Casablanca Road with the Airport Road (Cargo Village intersection) up to the intersection of Marrakech Road with the Airport Road (in the direction from Deira to Rashidiya) spanning about 1.1 km in total.
The detour is part of an ongoing RTA project to improve the traffic flow on intersections in the area.
Maitha bin Adai, CEO of RTA's Traffic & Roads Agency, said: "RTA had charted a plan for traffic diversions all along the Airport Road in both directions, which involves providing a permanent detour throughout the project construction period over two phases."
"Under Phase I, this detour would remain in place till the end of August this year. The detour would be fitted with all needed traffic safety means such as traffic signals and cautionary lights. The detour would conform to the specifications of roads in terms of high engineering designs, and the type of asphalt used in a way matching to the designed speed limit of the road to ensure the traffic safety to users. Due consideration is given to avoiding any disruption of traffic movement, which would trigger congestion. The project work zone would be separated by high barriers to mitigate the noise as much as possible for road users and residents of surrounding areas," added bin Adai.
"The improvement of Airport Road junctions is on the go, and work is currently underway in constructing bridges & underpasses in concurrence with the ongoing utility lines works, besides the construction of a sewage system pumping station in the area.
"The project also includes the construction of a flyover of three lanes in each direction along with a ramp from the bridge to Terminal 3 of Dubai International Airport, bypassing the waiting time at the traffic signal. A tunnel of two lanes in each direction is being constructed to serve the leftward-bound traffic movement from the Airport Road to the direction of Marrakech Road, which would also slash the waiting time at the junction from seven minutes to less than one minute," she explained.
It is noteworthy that the Airport Road Improvement Project is part of a plan set by RTA for accommodating the projected growth in the number of passengers using the Dubai International Airport that is expected to shoot to 92 million passengers by 2020.
Thus, the traffic study highlighted the importance of finalizing the improvement of the Airport Road by 2017.
RTA regrets any inconvenience experienced by road users because of this detour. At the same time, it calls upon them to be alert, observe the signals & cautionary signs in place, and stick to the speed limits set for their own safety and the safety of other road users.
Follow Emirates 24|7 on Google News.