Dubai Tram test run set to begin in 10 days: RTA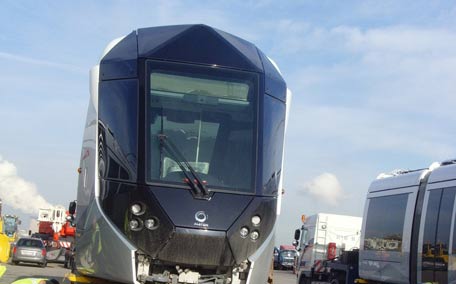 Dubai's push to fast track infrastructure development will get a major fillip with the start of Dubai Tram service soon. The Roads and Transport Authority will start test run of the Tram within the next two weeks time.
RTA said the first zone test-run will start from January 26th, 2014 and it's not open to passengers. The second test-run will start from April 16th and third from June 14th.
The authority said two Tram stations will be connecting with Dubai Metro. Jumeirah Lake Towers and Dubai Marina Metro Stations will be linked to Dubai Tram in the third zone starting June 14th.
The Tram network comprises 17 passenger stations, 11 of which are covered under Phase I and spread across activity and population density areas along the tramway. The fleet comprises 11 trams in the initial phase, and 14 trams will be added in Phase II to make a total of 25 operating trams. The tram is expected to lift about 27,000 riders per day at the start of operations in November 2014, and the ridership is bound to hit 66,000 riders per day by 2020.
The Roads and Transport Authority had announced arrival of the first Dubai Tram coaches to Jebel Ali port in the middle of December 2013.
The Tram, which was shipped from France, consisted of 7 coaches and constitutes the first batch of 11 trams in the first phase, with nearly 14 trams to be added in the second phase to make a total of 25 Trams.
French firm Alstom had conducted technical test run of Tram in late 2013 on the 700-meter test track in its factory in France.
The tests included various speeds, safety systems, electric propulsion of tram coaches, braking systems, sudden stop in emergency cases, and ground electric feed of the tram track, in addition to the catenary cables which will be used in the depot, and tram doors operation."
In December 2013, RTA Chairman and Executive Director Mattar Al Tayer said: "At the end of this month, the RTA will run the technical run of the tram in the depot's rails, and the test run will then be carried out in distance of about 2 kilometers outside the depot."
Follow Emirates 24|7 on Google News.