Dubai Tram to make its first journey this Sunday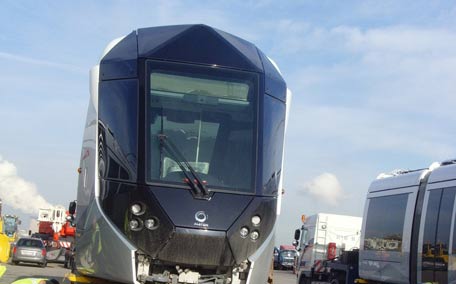 From next week on, we will be sharing the road with Dubai Tram. No, the project has not just made a giant push forward; it is still in testing phase. But, it will be on the road and the public must be aware, argues the Road and Transport Authority (RTA).

On January 26, the first test rides will be made within a 2-kilometre distance outside the tram depot. It will do its rounds in Sufouh area, where the rail network has been completed.

Simultaneously with the launch of the first test rides outdoors, is the start of the awareness campaign dubbed 'Let's talk Safety', aimed at raising awareness of a new road user in Dubai.

"Tram is under testing. Do not enter or use," reads a warning message in the booklet that is distributed at the RTA stand on the occasion of Customer Service Week in Dubai Mall.

This is an important message, because people might want to get on the tram when they see it is operating. But it is not yet for the public, explains a customer representative at the stand.

As a pedestrian, you will need to take extra care and keep a look out for certain signs. A pedestrian must always cross the track using a pedestrian crossing, look in both directions before crossing, and avoid using headphones or a mobile phone near the tram, advises the RTA.

Motorists should be equally vigilant. "Always give way to trams. Be extra careful where a track crosses the road as trams have their own traffic signals and may be permitted to move when you are not," reads the booklet.

Further, it warns to look out for pedestrians, especially children, running to catch a tram, getting off a tram or crossing the road.

Cyclists are specifically pointed out not to cycle on the tracks, as a cycle might get stuck in the rail gap. When crossing the track, consider dismounting and crossing on foot, reads the booklet.

In a sketch of worst case scenario, the booklet anticipates on what to when a vehicle breaks down while crossing the tramway.

It advises to get everyone out of the vehicle immediately to a safe point. If possible, all attempts should be made to get the vehicle off the tramway. Others should be warned with hazard lights and if it is dark or there is low visibility, headlights should be on.

Trams are much wider than the tracks they are on, the RTA further warns. Although each tram has a driver, they run on straight tracks so they cannot swerve to avoid obstacles.

The tram has a maximum speed of 50 km/h and will set off every six minutes once operational.

Next week's test rides are the first to be held, followed by a second test-run starting on April 16 and a third on June 14. The tram will become operational in November this year, with 11 trams serving 11 stations.

In a second phase, all 17 stations will be served by a total of 25 trams, expecting to lift 66,000 riders per day in 2020.
Follow Emirates 24|7 on Google News.